Mirsky family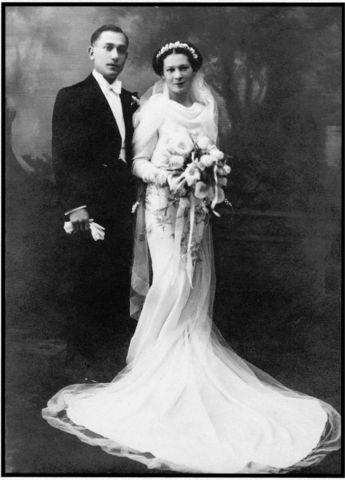 Marriage of Moshe Mirsky and Eva Pogorelsky in Johannesburg, South Africa (~1935-1937)
Moshe Mirsky was the son of Y'shua Yakov Mirsky (1885-1955), and the grandson of Benjamin Mirsky all from Mir. Moshe was born in Mir in 1907/8. His father emigrated to Johannesburg, South Africa during the 1920's and worked as a tailor. He sent money home, and eventually Moshe, his mother, Chana Bluma (1883- 1956), his sister Becky and brother Solly followed. He arrived in South Africa in 1923 at the age of 16.
Eve Pogorelsky's family came from the small village of Y'remich, near Mir. Shmuel Zvi, her grandfather was a tailor. His son, Avraham Yosef, a boot maker, married Mariasha. They had about 8 children, Eva (1911- 2005) was the 2nd youngest. Mariasha came from Shteips. Eva was about 8 yrs old when her family emigrated to South Africa.
Photo and information provided by Sidney Mirsky, son of Moshe and Eva.