BOOKS IN ENGLISH THAT REFER TO LIFE IN MIR
Shazar, Zalman. Morning Stars. The Jewish Publication Society of America Philadelphia 5727/1967. Translated from the Hebrew original, Kochvei Boker (Tel Aviv: Am Oved Publishers 1950) by Sulamith Schwartz Nardi. Zalman Shazar, president of Israel from 1963 to 1973, was born in Mir in 1889. At age 3 his family moved to nearby Steibtz, after a great fire in Mir. The first section of this autobiography includes material on small town life in the Mir region and the influence of Mir on nearby towns.
Eckman, Lester Samuel. History of the Mirrer Yeshivah (from its beginnings till 1945). Elizabeth, NJ: Judaic Research Institute, 2004. Its 143 pages cover the history of the Mir Yeshiva from its foundations in 1815 by Samuel Tiktinski up to the end of WWII, in Shanghai, 1945. (see review)
Maimon, Solomon. Solomon Maimon, An Autobiography. with an introduction by Michael Shapiro. Translated by J. Clark Murray. (U. of Illinois, 2003)
An abbreviated version of Solomon Maimon, An Autobiography, with early chapters describing his grandfather's estates near Mir and his childhood experiences can be found on the internet.
1930s in Mir
Shain, Ruchoma. All for the Boss: an affectionate family chronicle of Yaakov Yosef Herman, a Torah pioneer in America. Jerusalem; New York: Feldheim Publishers, 1984. Includes a section of (recreated) letters that Ruchoma wrote when she and her young husband had traveled from America to live in Mir in the 1930s. He went to study at the Mir Yeshiva.
Lewis, Rabbi Theodore. Bar Mitzvah Sermons at Touro Synagogue (1989 self-published)
The introduction recounts the author's years at the Mir Yeshiva in the 1930's. (He came from Ireland). Rabbi Lewis has permitted a section of his book to appear on Mir web site. Go to: Remembrances of Mir Yeshiva
War years in Mir
Tec, Nechama. In the lion's den: the life of Oswald Rufeisen.
New York : Oxford University Press, 1990.
Describes the activities of Rufeisen in Mir, where he pretended to be a displaced Christian of mixed German-Polish parentage. He was a translator for the German Army. He is credited with saving several hundred Jews of Mir, aiding their escape and providing weapons so that they could survive. (See N.Y. Times book review for more information.)
A summary of Rufeisen's activities during the war can be found on-line.
There was a detailed obituary of Oswald Rufeisen, later known as Brother Daniel in the Jerusalem Post on 3 September 1998.
Sutin, Jack and Rochelle (Schleiff). Jack and Rochelle : a Holocaust story of love and resistance. (Graywolf Press, 1995 hardback. Graywolf Press, 2008 paperback.)
Jack grew up in Mir, Rochell in nearby Stolpce.They tell their stories individually and together, with the help of their son Lawrence Sutin. They detail life in Mir and Stolpce before the war, escape, surviving World War II in the forests of Poland as resistance fighters against the Nazis, Polish collaborators, and antisemitic Russian partisans. They ultimately relocated to the U.S. and enjoyed a long, happy family life.
Leitner, Y. Operation Torah Rescue : The escape of the Mirrer Yeshiva from war-torn Poland to Shanghai, China (Feldheim, NY, 1987)
Hertsman, Elchanan Yosef. The Shanghai Connection (NY, 1988) English adaptation of a Yiddish memoir about the Mir Yeshiva (see below).
HEBREW BOOKS ABOUT MIR
Goldberg, Moshe Leib. Misped tamrurim. (Vilna, 1896)
Largely a biography (and genealogy) of Hayim Leib Tiktinski, Rosh Yeshiva of Mir written by his son-in-law. The Tiktinski family was prominent in Mir in the 19th Century and founded the famous Yeshiva.
Mirsky, S.K. editor. Jewish Institutions of Higher Learning in Europe: Their Development and Destruction. p. 87-133 (NY, 1956). This scholarly work contains a chapter on the Mir Yeshiva.
Sefer Mir. Jerusalem : Entsiklopedyah shel galuyot, [1962]
This is the Mir Yizkor Book, a history of the town and its Jewish residents, a memorial to the people and the town destroyed by the Nazis, a description of the resistance of the Jews of Mir and a report on Jews from Mir in other countries. A digital copy of the book can be seen at the Dorot Jewish Division at the New York Public Library. The English section of this book and translations can be read on the JewishGen Yizkor Books web pages at: http://www.jewishgen.org/yizkor/mir/mir.html
The first chapter of the Mir Yizkor book, History of the Jews of Mir, has been translated and can be read on this web site.
Tzinovitz, Moshe. Mir : toldot yeshivat mir : moreha, hayeha, talmideha ve-toratah /Mosheh Tsinovits. Tel Aviv : hotsa'at "Mor", 741 [1980]. History of the Mir Yeshiva.
Tooretz-Yeremitz Published 1977
The Yizkor book for Turets, Belarus
Turets (Tuzhets, Turzec) was a town 7.7 miles northwest of Mir, with a Jewish population of 737 (out of 1616) in 1897. There are many references to Mir. A digital copy of this book can be seen at http://yizkor.nypl.org/index.php?id=2248. There are 114 pages in English at the back of this 546 page book.
YIDDISH BOOK ABOUT MIR
Mishkowsky, Noach, (1878-?) Mayn lebn un mayne rayzes. Meksike : [s.n.], 1947. 2 volumes. : ill., ports. ; 21 cm. Written in Yiddish. The author describes his early life in Mir , where his family lived and where he grew up.
Hertsman, Elchanan Yosef. Mirer yeshive in goles: ven di velt hot gibrent. (Brooklyn, 1950)
A Yiddish memoir of the Holocaust period. A related or expanded version appeared in Hebrew: Nes ha-hatsalah shel Yeshivat Mir, Jerusalem, 1975).
FRENCH BOOK ABOUT MIR in 1930s
Gugenheim, Ernest. 2006. Lettres de Mir : d'un monde de Tora effacé par le Shoah [Letters from Mir: a world of the Torah erased by the Shoah]. Paris: Biblieurope. ISBN 2-84828-051-4
Letters of the talmudist Ernest Gungenheim, who was in the Mir Yeshiva from January to September 1938.
Review in English of Lettres de Mir

Translation of back cover
RUSSIAN BOOKS ABOUT MIR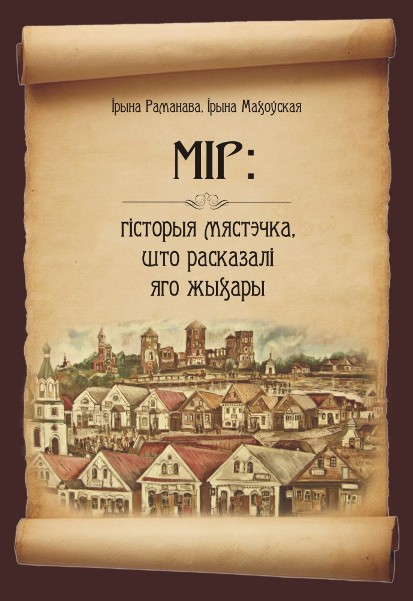 Mir:The History of Town as Told by Its Citizens
Мiр: гiсторыя мястэчка, што расказалi яго жыхары
Monograph by Irina Romanova and Irina Makhovskaya.
Vilnius: EHU, 2009. - 248.
ISBN 978-9955-773-29-0
Text below Google translation from Belarussian
The book "Mir: History of the town, which told its people" - is the story of settlement, presented through the eyes of its residents.
The uniqueness of Mir as the object of study identified several points. The first - is the presence of the beautiful Gothic castle of the XVI century., In which up to the under-course of Soviet power in 1939, lived in Prince Svyatopolk-Mirsky. Living close to the vice-com, princes gave the laity a sense of the uniqueness of their small homeland. Villagers are very proud of the place where they live and, as a rule, with zadavalnen-learn about his past. Another thing that has provided Mir vyado-suit Mir - Mirs Yeshivah, one of the most famous yeshivahs first half of the twentieth century. Where the number of citizens of the Russian Empire and then Poland (part of which was to place Mir) students from around the world : England, Holland, Germany, Sweden, Denmark, America, Canada, South Africa and others.
Mir: istoriko-ekonomicheskii ocherk (Minsk, 1985) by Gurin,
The book is from an Orthodox Communist perspective and while it details the Nazi period it omits anything specific about Jews being singled out or locals collaborating. Not too useful for most genealogists.
Regesty i Nadpisi (1913), The Russian document source book, contains pre-1800 entries for Mir which are very brief or only of historical interest. (Translation may be available later.)
Russian language Jewish Encyclopedia, published (1906-1913)
(Translated by Patrick Gordis for this web site.)
If anyone can recommend other books about life in or near Mir, please send the references to me.