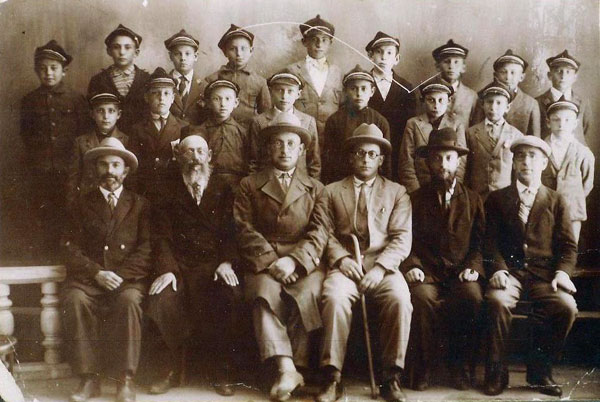 Solly Marcus was born in Mir in 1920. He is in the top row on the right.
The photo is probably in the late 1920s or early 1930s
This is his school class (the religious school) and the headmaster or teacher was the
son-in-law of the Rosh Yeshiva Rav Kamai.
Solly had cousins in Mir, the Chaitowich family. Michol was a partisan and survived and went to live in Israel.
The other brothers Doje (David), Benje and Yente their mother perished in the war.

Solly currently lives in Toronto, Canada.
Marcus/Markiel or Markewitz Family in Mir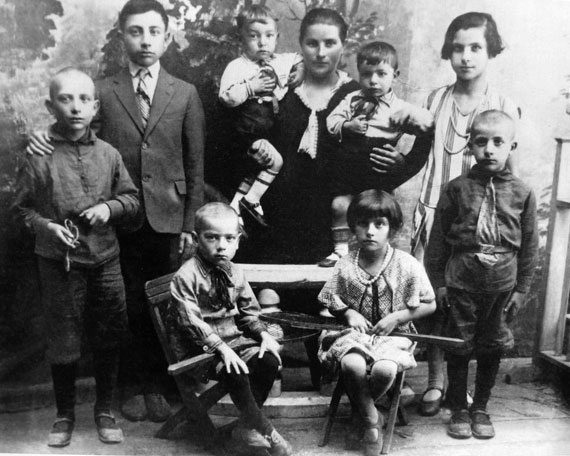 Marcus Family in Mir 1931-32, before they immigrated to South Africa.
Brian Marcus said:
The family name in South Africa is Marcus, although they went by Markiel or Markewitz in Mir. My grandmother Sarah Marcus (nee Pavles) is with eight of her ten children, a year or two before they immigrated. Her husband, my grandfather Avram Isel, was already in South Africa, going ahead to save up for the family to join him. The children are, back left to right: Zalman ( Solly), Nachum Leib (student at Mir Yeshiva, later a rabbi at Vredehoek Shul in Cape Town for many year), twins Yudel (Joe) and Lazar (Leslie), Nechama (married Hack), my late father Shmuel (Sam). The front row Moshe (Morris) and Chava (Eva, m. Bub) Avram and Sara Marcus had another set of twins in South Africa, Masha (Marcia) and Basha (Bertha).
Marcus family in Cape Town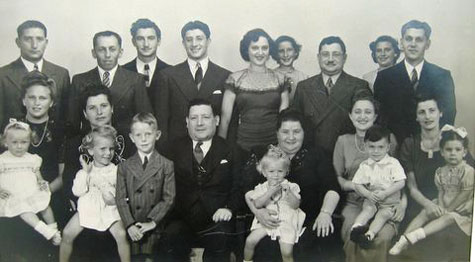 Marcus family from Mir in Cape Town, South Africa 1950
The Marcus Family with spouses and with the early crop of grandchildren. Many more grandchildren to follow.
Since then, they and their descendents have left South Africa, scattering to Israel, Canada, USA ,England and Australia.

This information was provided by Brian Marcus, grandson of Avram and Sara Marcus, son of Shmuel and nephew of Solly Marcus.