Khaia/Chaya married Benjamin HARKAVY also from Mir. When David left for South Africa he passed the cabinet making business to his sister and brother-in-law.) See list of business and their owners in Mir.)
Khaia and Benjamin Harkavy had two children, Jacov (born 1927) and Brocha/Bronia.

Photo of Jacob, about age 3, and Khaia/Chaya
Benjamin was a member of the Communist Party. The family was evacuated to the east, sometime between the German invasion in June 1941 and the German army's arrival in Mir at the end of the year.
The family returned to Mir after the war. Bronia was around twelve years old when the war ended. An American who visited Mir after the war wrote an article in the Jewish newspaper "Jewish Daily Forward" (known as "The Forward") describing them as the only Jewish family left in Mir.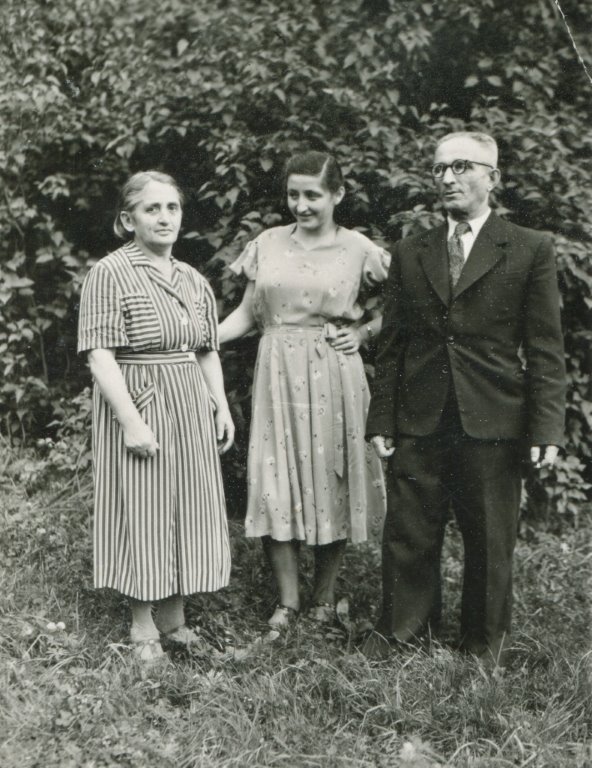 Khaia and Benjamin Harkavy with daughter Brocha/Bronia (center) in Mir, some time after the war.
Their daughter Brocha/Bronia became an engineer and lived in Minsk. She married William Benunin, also an engineer, who was from Minsk. They immigrated to San Diego.
Their son Jakov became a teacher of mathmatics. He also left Mir.