Viola W. Bernard, age 7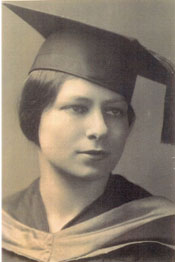 Viola W. Bernard, at her graduation from Cornell Medical School in 1936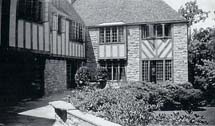 During World War II, Bernard housed European war refugees at her family's summer home, Sky Island Lodge, in Nyack, New York.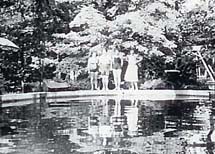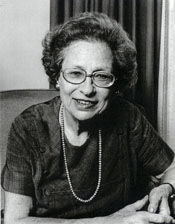 Viola W. Bernard in 1977
Viola Bernard was a pioneering social psychiatrist whose vision of mental health presumed fundamental links between the lives of communities and the lives of individuals. Causes such as civil rights, peace, and urban poverty, she believed, were determining factors in child and family welfare, and Bernard pursued them actively throughout her life. Her conviction that adoption was a critical mental health issue left an enduring mark on the adoption world while illustrating her theoretical loyalty to community psychiatry and her practical efforts to increase its influence.
A professional leader committed to exploring the powerful social forces that infused human behavior and relationships, Bernard believed that events within individuals, interactions between individuals, and relationships among social institutions were all interconnected, subject to scientific inquiry, and in urgent need of rational management. She was a dedicated clinician who also conducted research on the psychosocial dimensions of fertility and infertility and followed cases of adopted twins separated at birth in order to probe the nature-nurture problem. But it was her pursuit of liberal social justice that illuminated important developments in adoption history during the middle third of the twentieth century. Not least of these was the increase in numbers and kinds of children considered adoptable: African-American children, children with disabilities, children with special needs.
Bernard maintained a lengthy and entirely uncompensated relationship with Louise Wise Services, one of the country's first specialized adoption agencies. During her 40 years as Chief Psychiatric Consultant and her fifty years as Board Member, Bernard served as both godmother and gadfly to the agency, urging an array of practical and moral reforms. The result was the agency's transformation from a sectarian organization devoted to Jewish adoptions before World War II (when it was still called the Free Synagogue Child Adoption Committee) into a national innovator in services geared to children of color in the 1950s and 1960s. Along with Justine Wise Polier (whose mother, Louise Wise, was the agency's founder), Bernard worked to insure that the agency's staff was racially integrated and that its placements exemplified the goal of non-discrimination. She was proud that her agency established an Interracial Adoption Program in 1952 that actively recruited minority adoptive families and experimented early on with transracial adoptions. During the course of the Indian Adoption Project, Louise Wise Services placed more native children than any other private agency in the country.
Bernard's thinking about adoption was shaped by the particulars of her personal background and professional training. She was born in New York in 1907 to Jacob Wertheim, a wealthy German-Jewish businessman and philanthropist, and his second wife, Emma Stern. Like Justine Wise Polier, a childhood friend, Bernard benefited from educational privileges that were rare among American women at the time. After attending the Ethical Culture School in New York, she took college courses at Smith, Barnard, Johns Hopkins, and New York University. Bernard's life as a young adult was exceptional in other ways as well. She lived in an ashram, called the Clarkstown Country Club, where she practiced yoga and studied eastern philosophy long before these became fashionable. Through Clarkstown, she met and married Theos Casimir Bernard, a scholar of Tibetan Buddhism. The marriage lasted four years. Bernard never remarried or had children. She lived at 930 Fifth Avenue in Manhattan for most of her adult life, accompanied by a succession of beloved dogs.
In 1936, Bernard graduated from Cornell University Medical School. She then pursued a series of psychiatric residencies as well as training at the New York Psychoanalytic Institute. She belonged to the first psychiatric generation after Sigmund Freud and maintained that Freud's psychodynamic theory was the source of crucial insights into infertility, adoptee identity, and the controversies that surrounded confidentiality and sealed records as well as search and reunion. Like her colleague and mentor, Marion Kenworthy, who helped bring psychiatric social work into being, Bernard was genuinely interested in how psychiatry might learn from other professions as well as what it might offer to them. Bernard's effort to make psychoanalysis more widely accessible—by establishing the country's first low-cost psychoanalytic clinic at Columbia University—was typical of her campaign to make mental health services much more widely available.
Bernard's long career was marked by professional distinction and social engagement with a wide range of causes, from civil rights and civil liberties to peace and nuclear disarmament. She was a founding member of the Group for the Advancement of Psychiatry, an important interest group within the American Psychiatric Association that anticipated the increasingly social and psychodynamic orientation of psychiatry during the postwar era. She was a vocal defender of Alger Hiss, target of one of the most notorious espionage cases of the early Cold War. Bernard herself was suspected of "un-American" activities and was investigated in 1951-1952 by the Federal Security Agency. Bernard signed the social science statement, "The Effects of Segregation and the Consequences of Desegregation," that influenced Brown v. Board of Education, the 1954 landmark case that ended educational segregation in the United States. Bernard's wish to see racial barriers dismantled extended to her own profession as well. As an unofficial career counselor for minority psychiatrists, Bernard thought progress had occurred when she no longer knew every African-American psychiatrist in the United States personally. Moved by the famous exchange on war between Sigmund Freud and Albert Einstein, Bernard participated in the meetings of the Pugwash Conferences on Science and World Affairs, which were eventually awarded the Nobel Peace Prize.
Professional, political, and personal action were not distinct realms of activity for Bernard. In 1971-1972, she was elected Vice-President of the American Psychiatric Association on a historic opposition slate protesting the Vietnam War. In the world of child welfare advocacy, her affiliations included the Citizens' Committee for Children of New York, the Bureau of Child Guidance of the New York City Board of Education, and the Wiltwyck School for Boys. During World War II, she allowed her summer home, in Nyack, New York, to be used by the American Friends Service Committee to house refugees from Nazi Germany. From 1956 through 1969, she directed the Division of Community and Social Psychiatry at Columbia University's medical school, where she oversaw a training program dedicated to carving out a large and multi-faceted jurisdiction for psychiatry. The administrative and organizational demands of social psychiatry, Bernard believed, were unavoidable, but they also created an occupational hazard of excessive distance between practitioners and the communities they served. It was appropriate for social psychiatrists to reform laws related to child and family mental health, for example, but legal advocacy might distract from the daily struggles of individuals unless it was consciously balanced with the ongoing practice of psychotherapy.
Known by close friends and family as "Vi," Bernard was by all accounts a very forceful personality: at once charismatic, opinionated, loyal, intimidating, admirable, and absolutely determined to achieve her goals. Her personal assistant for more than twenty-five years, Dr. Kathleen Kelly, calls her "unforgettable" and "a sparkling human being. "She was extremely exacting and demanding, and set very high standards for herself and everyone who worked with her." Dr. Perry Ottenberg, a friend and colleague of Bernard's who now serves as President of the private foundation she established, recalls that "Viola was cultured, raised in upper middle class wealth, a world traveler, yet spoiled her poodles, buried her fichus tree each winter with ceremony and served home made juices and strong alcoholic drinks."
Bernard's ideas about the relationship between personal and social psychology were as brilliant and complicated as she was. Bernard believed that everything was always related to everything else, and she dubbed her encompassing approach "ecological" before that term was popularized by environmentalists. Bernard's intellectual ambition was daunting and she wrote with great difficulty, "carving each word out of stone," according to her niece Joan Wofford. Students sometimes found it difficult to follow her elaborate, meandering train of thought. It is a testament to Bernard's formidable intellect and energy that she so often succeeded in solving problems and demanded equity so effectively on behalf of disadvantaged children and families.
Adoption epitomized the preventive psychiatry to which Bernard devoted her entire career. Bringing children and adults together required diagnostic skill and professional collaboration, and Bernard valued both. But adoption was far more than a series of steps that resulted in the formation of new families. It was a life-altering and lifelong therapeutic process of "psychic rearrangement." "The central social reality of adoption," she wrote, "is its power to prevent misery and maldevelopment of children who lack families of their own." Adoption contributed to the mental health of its participants by repairing the traumas of infertility and separation from parents while psychiatric insights into illegitimacy and clinical practices like mental tests and home studies insured the psychological viability of adoption.
Bernard knew that there were no guarantees in adoption. She recounted the story of eleven-year-old Sarah, whom she personally removed from a disastrous adoptive placement, as "one of the most painful tasks I have encountered," "a psychiatric equivalent of radical surgery." But Sarah's case was exceptional, according to Bernard. Most placements conducted under the auspices of professional agencies were managed well. Children were observed closely, parents were selected carefully, and the result was "a remarkable human experience" that prevented a great many more problems than it caused. Bernard's belief in the "affirmative" qualities of adoption was one reason why she objected so vigorously to the argument that adoption placed children at greater risk for psychopathology, a thesis advanced by Marshall Schechter and other clinicians during the 1960s. In the absence of convincing proof that adoption led to maladjustment, anything that undermined public confidence in adoption was a tragedy for public health and child welfare.
Bernard's ideas shaped and reflected powerful trends in the adoption field, and in psychiatry, during the middle third of the twentieth century. Her career suggested how confident modern adoption reformers were in the promises of regulation, professsionalization, scientific knowledge, and therapeutic approaches. "The guiding principle of modern adoption practice," Bernard wrote, is "the application. . .of the best that is known about family living in general to the special circumstances of adoption."