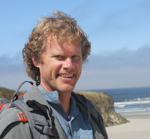 Alan W. Rempel
rempel@uoregon.edu
Premelting and phase changes in porous media; mechanics and physics of ice and glaciers; gas hydrates and submarine slope stability; strength evolution along faults; pore-fluid interactions; deformation and failure of granular materials in seismic and surficial processes.
Links to: a biographical sketch, publications, and current courses (Spring 2014: Geology 110: People, Rocks, and Fire).
My research is directed towards understanding the fundamental interactions that govern a broad spectrum of natural processes. Much of this work centers on the fluid mechanics, solid mechanics and thermodynamics that control interactions between solids and fluids, especially near the melting transition. I am particularly interested in problems that span a range of length and time scales, often motivating the development of homogenized models to translate from the microscopic distances over which the controlling physical interactions operate, to the much larger scales at which their effects are observed. Current work is focused on solid-fluid interactions along faults during earthquakes and slow-slip events; the controls on glacier sliding that result in sediment entrainment and landscape evolution; the development of gas hydrate anomalies and their implications for submarine slope stability and pockmark formation; multiphase shear and transitions between distributed (viscous) and localized (frictional) deformation mechanisms; segregation and transport processes during solidification and melting in porous media on Earth and Mars; and passive strategies for thermal storage and timed heat release in the built environment (in collaboration with
Alexandra Rempel
).
Current Research Group Members:
Alumni:
Andrew Schneider, MSc. 2009, thesis: Constraints on eruption dynamics, Mount St. Helens, WA, 2004-2008 (see Schneider et al., 2012)
Kristen Fauria, BSc. 2010, honors thesis: Mechanisms of gas transport through sediment: Implications for the gas hydrate stability zone (see Fauria and Rempel, 2011).
Laura van Alst, MSc. 2011, thesis: Laboratory experiments in cold temperature rock deformation (see Rempel and van Alst, BIOT-5, 2013).
Sara Papamarcos, MSc. 2012, thesis: A model of basal hydrologic networks and effective stress beneath an ice sheet.
Jiangzhi (Arthur) Chen, PhD 2014, thesis: Evolution of fault strength from microscopic asperity scale to macroscopic fault zone scale.
Associate Professor, Department of Geological Sciences, University of Oregon, September 2009 - present.
Assistant Professor, Department of Geological Sciences, University of Oregon, January 2005 - September 2009.
Lecturer in Applied Mathematics, Division of Engineering and Applied Sciences, Harvard University, July 2003 - December 2004 (mentor Jim Rice).
Postdoctoral Associate, Department of Geology and Geophysics, Yale University, July 2002 - June 2003 (mentor John Wettlaufer).
Research Associate, Applied Physics Laboratory, University of Washington, June 2000 - June 2002 (mentor John Wettlaufer).
Education:
Ph. D. (Applied Mathematics) University of Cambridge, 2000. Dissertation: The Dynamics of Premelted Films, with Geophysical Applications (advised by Grae Worster).
M. Sc. (Geophysics) University of British Columbia, 1995. Dissertation: Theoretical and Experimental Investigations into the Formation and Accumulation of Gas Hydrates (advised by Bruce Buffett).
B. A. Sc. (Engineering Physics) University of British Columbia, 1992.