HIST 407/507:
Russian Political Culture:
A Research Group
Instructor "Consent -to-enroll form" required

Professor Alan Kimball (EMAIL OR tel. x4813)
Office hours = TU & TH 10:15-12:15 in McK 367 or by appointment
ARE YOU LOOKING AHEAD to NEXT YEAR? Take this hop, then come back
2014fa:
OREGON RESEARCH GROUP ON THE HISTORY OF RUSSIAN POLITICAL CULTURE =
"War and Revolution"
Table of Contents =
WEEKS ONE and TWO = Establish shared perspective
*--Exercise one = General readings
*--Exercise two = How to use SAC
*--Exercise three = Search chronologically for a topic
*--Exercise four = Search some key words for a topic
*--Exercise five = Prepare a book report for the group
WEEK THREE & FOUR = Continue
WEEKS FIVE & SIX = Individual Conferences
WEEKS SEVEN & EIGHT = Oral Reports
WEEKS NINE & TEN = Written Précis
THE FINAL BIG TASK = Formal Research Report
THIS WEBSITE GROWS AND CHANGES THROUGH THE QUARTER.
IT NEEDS TO BE "REFRESHED" EVERY TIME YOU OPEN IT ON Y0UR COMPUTER.
THIS MAKES SURE THAT YOU OPEN THE LATEST VERSION.
OTHERWISE YOUR COMPUTER MIGHT OPEN THE OLD SITE IT "MEMORIZED" LAST YOU WERE HERE.

WEEKS ONE AND TWO
(WE WILL PLAN WEEKS THREE & FOUR TOGETHER AS WE GO) =
Each member of the Research Group will devote about eleven hours per week, outside of our meeting times, on our projects (and about twenty hours in the final week of the term as individual research reports [ID] are completed)
The purpose of these first three weeks is to read about and to discuss a few general, theoretical perspectives and to discover and define individual research topics, all within the broad range of the Research Group's shared interests. In other words, each researcher should move quickly from a broad overview to a close-up focus on a specific topic. Don't hesitate to consult with me about your choice.
Exercise One =
Some general readings to give the research group a degree of shared perspective on certain "big issues"
Here at the beginning, each Researcher should take up the following four reading exercises
These exercises will spill over into week three =
How might we define and provide chronological limits to our group's over-arching or shared topic, even as we define individual research projects? [Hop to The Russian Revolutionary Era, 1856-1927, but particularly section five of that webpage
KIMBALL FILES, Student's Annotated Chronology and Systematic Bibliography [SAC] =
How to use SAC
EG= Find function and Hypertext LOOP.
In search for ideas about your own Research Group's focused research topic,
surf through the chronological range numbered 6 through 10 below.
Don't be detained or annoyed by repetitive hops; absorb the big picture
Repetitio est mater studiorum
Together during group meetings, we will touch on the other chronological ranges, 1 thorugh 5 and 11 through 16 =
0. *1814:1825; Vital early episode misleadingly packaged as "Decembrist Movement" [LOOP]
1. *1850s:1880s; Background = "Era of Great Reforms" and two "Revolutionary Situations"
2. *1880s:1904; Statist Reaction [LOOP on phrase "tsarist state" (about 15 hops up to the 1905 Revolution)]
3. *1880s:1904; Public Political Mobilization [LOOP on phrase "political party" (about 7 hops)]
4. *1905 Revolution ["1905 LOOP" with about 10 hops, many with several entries (definition of SAC entry = text between "<>" and "<>")]
5. *1907:1912; Era of the Third State Duma [Ca.30 entries from 1907no01 to 1912ap| Brush over entries unrelated to Russia]

6. *1914:1918; WW1 and Russian Politics [LOOP on "War-time origins of Russian revolutions"]
7. *1917fe23:1917mr02; Collapse of the Imperial Regime [Six entries between 1917fe23 and 1917mr02]
8. *1917mr02:1917oc25; Provisional Government [First entry summarizes this period and provides several "hops"]
9. *1917oc25:1918mr03; The Soviet Revolution [First entry summarizes the period and provides several "hops"]
10. *1918ja16:1920no14; Consolidation of Soviet Power and Revolutionary Civil War

11. *1921:1927; "Lenin's Last Struggle" and the era of NEP (New Economic Policy)
12. *1927:1939; Stalinism
13. *1961:+; Era of dissent [LOOP]
14. *1985:1991; Perestroika and disintegration of the USSR
15. *1991:1999; The Yeltsin Era (LOOP begins in Perestroika era)
16. *1999:+; The Putin Era | Mikhail Khodorkovskii
Some of the most pertinent Anthologies of Primary Documents
*--B&F
*--Bunyan2
*--GRH
*--HCV
*--McC1
*--McC2
*--RWR
*--WRR
Some suggestive primary documents
*--What is the nature of war and revolution as revealed in the correspondence between Emperor Nicholas II and his wife, Empress Aleksandra
*--The great poet Aleksandr Blok in war and revolution
*--Durnovo's vision of war and revolution [LOOP]
*--Eyewitnesses =
G. Maurice Paléologue
Bernard Pares Albert Rhys Williams,Albert Rhys, and wife Araidna Tyrkova-Villiams
John Reed
Nikolai Sukhanov

*--German Social Democrats and Russian politics (EG=Rosa Luxemburg)
*--Vladimir Gurko (government official)
*--Aleksandr Kerenskii [Kerensky,Alexander]
*--Vasilii Maklakov
*--Pavel Miliukov
*--Military (officers and recruits), 1900-1920 [EG]
*--Peasantry [LOOP] | Peasants = Shanin, AWKWARD | Village "civil society" [TXT]
*--Petroleum industry [LOOP]
*--Rasputin = Summary of film "Agoniia"
*--Revolutionary Civil War [LOOP]
*--Russian revolutionary Provisional Government [ID] = Relation of domestic to international politics
*--Savinkov,Boris [LOOP]
*--Shotwell publication project
*--Soldiers = John Bushnell
*--Yakhontov,Arkadii recorded deliberations in the Imperial Council of Ministers [ID]
*--Wage-labor
*--Wartime economic mobilization [LOOP]
*--USA President Woodrow Wilson and Russian revolutionariy war aims [LOOP on war aims]
*--World War One and the Second Russian Revolution [LOOP on war and Revolution]

Secondary works

*--Florinsky.END
*--Gattrell,Peter|_Russia's First World War: A Social and Economic History
*--Lincoln,W.Bruce|_Passage Through Armageddon: The Russians in War and Revolution|
*--Melancon.SRs-vs-WW1
*--Wade.PEACE
*--Wade.RED
*--Wildman.END


Here are some topics related to broader issues of Russian political culture =

Alexandra, Empress of Russia. (Do her early letters express a "political ideology"?)
Aristocratic political culture in the last half century of the Russian Empire [LOOP on "statist reaction"]
Aristocrats and peasants expressed themselves in petitions, etc., some translated in Freeze
"Asiatic Mode of Production" = Wittfogel
Childhood and political culture [Example]
Culture and Revolution = Andrei Belyi, Aleksandr Blok, Revolution of the Spirit
Democracy = Jacob Walkin
Economic history = "The Witte System"
Ethnic or National minority programs & policies of the imperial state & political opposition = Census | Page on "nationalities"
Eyewitnesses =
Maurice Baring
Albert Beveridge
Custine
Haxthausen
George Kennan
Leroy-Beaulieu
Henry Norman
Bernard Pares | ?Compare with Samuel Harper [ID]?
Donald McKenzie Wallace
William English Walling
Mikhail Gershenzon
Maxim Gorky and Russian theatre [LOOP]
Industrial wage labor [HUGE LOOP] | A specific Russian wage laborer, Semen Kanatchikov
Intelligentsia = [TXT] | Anti-"intelligentsia" trends; trends less political
Jewish Bund
Vladimir Kokovtsov
Maksim Kovalevskii | Maksim Kovalevskii's Russian political institutions
Law = Richard Wortman
Lenin
John Locke
Rosa Luxemburg (international Social-Democratic party leader)
Karl Marx and Russia
Peasantry [LOOP] | Peasants = Shanin, AWKWARD | Village "civil society" [TXT]
Petroleum industry [LOOP]
Ivan Petrunkevich
Georgii Plekhanov
Konstantin Pobedonostsev
Political parties = UNION OF LIBERATION (prm), Donald Treadgold, Lenin (ndr)
Religion and politics = Nikolai Berdiaev (prm), Christopher Read, (ndr)| cf=Vekhi below
Right-wing ideas & movements = Hans Rogger (ndr)
Silver Age LOOP | Silver Age culture and politics [important moment]
Terror [two big moments = First and Second]
Lev Tikhomirov
Trotsky = on the 1905 Revolution | Leon Trotsky, My Life (early years, through the Russian Revolution of 1905)
Urban politics [LOOP]
Vekhi group, religion in Russian political culture
Paul Vinogradov
Wartenweiler,David| Civil Society and Academic Debate in Russia, 1904-1917
Max Weber
Wladimir Weidlé, Russia: Absent and Present. (Art historian, exiled from Russian homeland, ponders why)
Witte,Sergei full political career [LOOP] (reformer or reactionary?) |Bibliography
Witte & "modernization" concept [The main hop] |
Witte's 1899 assessment of Russian politics and Lenin's rejoinder [ID]
Witte's role in the 1905 Revolution, from the fall of 1905 to the spring of 1906 [LOOP]
Women = [SAC] [SAC] Encyclopedia of Russian Women
Zemstvo and its liberal movement



Each researcher will prepare a book report for the Group. Here is an annotated bibliography that should be helpful as we distribute book reports among us, and as you explore possibilities for your own term-long research project =

THE "GREAT BONEYARD" BIBLIOGRAPHY

Useful "reference works" would include comprehensive monographs,
Knight Library Reference Division encyclopedias and monographs

You might also take note of some further anthologies of primary documents

Here is a list of the book reports distributed among the members of the Research Group ["byd" means the link is to the review now posted on the big boneyard bibliography] =


Here are some elementary but useful questions the critical reader can put to any serious text
And here are three rather more specific questions each researcher should ask of these readings =

(1) How do these readings help us define Russian political culture with reference to our theme?
(2) What are the most important insights, general or theoretical perspectives, and/or telling details?
(3) How do your book's main points relate to what you find in one or more of the reference monographs? [EGs]

At the fourth-week meeting of the Group (see below), researchers should prepare to deliver ten-minute oral reports on their books.

By the end of Friday of week four, these book reports will be written up and submitted as email text to Senior Researcher Kimball.
Kimball will give each review in the LIST above a hypertext link, allowing each Researcher to study their own review and those submitted by fellow Researchers.

Here are some book reports by previous members of the Research Group =

Anweiler,Oskar. The Soviets
Ascher, Revolution
Avrich,Russian Anarchists
Carr, Romantic Exiles
Daly,Jonathan. Autocracy Under Siege: Security Police
Durman.Time
Engelstein,Laura. Moscow,1905
Eklof
Froehlich, Emergence
Gammer,Muslim
Hamburg,Chicherin
Harcave,Witte
Kappeler
Kassow,Samuel. Students, Professors and the State
Lampert, Sons
LaPierre
Levin,Alfred. Third Duma
Lunin.First
Mazour,First
Mehlinger,Howard, and John M. Thompson. Count Witte
Miliukov,Pavel. The Russian Revolution
Owen,Thomas. Capitalism and Politics in Russia
Pares,Bernard. The Fall of the Russian Monarchy
Pipes,Richard. Russian conservatism
Reed,Christopher. Religion, Revolution
Riasanovsky,Nicholas. A Parting of Ways
Riha,Thomas. A Russian European: Paul Miliukov
Robinson,GT. Rural Russia
Rosenberg,William. Liberals
Saul
Shanin,Teodor. Roots of Otherness v1
Shanin,Teodor. Roots of Otherness v2
Stites.Women's
Thaden,E. C. Conservative Nationalism
Trotsky.Young
Venturi,Franco. Roots of Revolution
Zuckerman,Frederic. The Tsarist Secret Police

WEEKS THREE & FOUR
Complete discussions of KNIGHT LIBRARY and SAC readings and prepare for individual meetings in weeks five and six [ID]
1. Discuss individual book reviews (as outlined above)
2. Compose and email full book reviews to Senior Researcher Kimball by Friday of the fourth week
---| Once Senior Researcher Kimball has received and hypertexted them (by TU of the fifth week), you may click on the list of readings and hop to where they are posted
3. Establish individual "short lists" of research topics prior to first individual meeting in week five (just below)

WEEKS FIVE and SIX =
TWO INDIVIDUAL CONSULTATIONS
WITH SENIOR RESEARCHER KIMBALL
The purpose of these two individual meetings in weeks five and six is to
Define individual research interests
Rank them according to significance
After discussion, choose one
Boil it down to essential details, then
Adjust focus in view of available primary documentation
Each researcher should come to consultations having made as much progress in these five areas as possible.

By the fourth-week meeting of the Research Group, each member will have indicated which of the sixteen time slots identified in the table below work for them. The distribution of names will be posted in the table below by the weekend of week three. After names are posted in the time slots, each Researcher should check for errors or problems and bring them to the attention of Senior Researcher Kimball.

HOUR

TUE
week 5
TUE
week 6
10:00
10:30

Ganieany Christine

Ganieany Christine

11:00
Latre Alex
Latre Alex
11:30
Quarterman Josh
12:00
Halpert Theo
12:30
Duletzke Nate
Duletzke Nate
1:00
Quarterman Josh
1:30
2:00
Loomis Jonathan
Loomis Jonathan
2:30
Ryan Mitchel
Ryan Mitchel
3:00

3:30

Young Zachary

Young Zachary

4:00
Halpert Theo
4:30
5:00
5:30

WEEKS SEVEN & EIGHT =
Brief oral presentations and discussion during the Group's regular meeting time
In the table below, the first column lists presenters.
In good time, the second column will also identify individual research topics.
The third column indicates who will serve as "interlocutor" for each oral report.
The "interlocutor" is the Research Group member responsible to open the discussion and keep it moving along,
but everyone is expected to participate.
Therefore, every member of the research group (especially the interlocutors) should prepare themselves to participate in group discussions.
I have entered some FIND [F//] suggestions to aid the group's thinking about presenters' topics =
Perform some jolly FIND searches in bbl.BYD, in SAC#1, in SAC#2
Interlocutors might also look up their presenter's topic in MERSH
or one of the major reference works and textbooks before the meeting,
better to carry out their role as leader of the group discussion.
No harm in becoming something of a specialist on the topics of fellow researchers.
When we discuss the work of fellow researchers, we can use that set of critical questions defined earlier in this syllabus [ID].
Our purpose is to learn from the presenter and to contribute to the progress of the presenter
toward preparation of the précis [ID]
and the final research paper [ID].
WEEK SEVEN =
Presenter
Topic
Interlocutor

Ganieany Christine


Military personnel at war & in revolution | F/mlt/ | F/soldier/ | F/mlt.rpt/
Loomis Jonathan
Latre Alex

Religion & the church in war & rev | F/chx/ | F/rlg/
Quarterman Joshua


Duletzke Nate
English & French diplomats to Russia in the time of war & rev | F/Buchanan/ F/Paléologue/
Young Zachary
WEEK EIGHT =
The Research Group will proceed as in the introduction to the previous week
Presenter
Topic
Interlocutor
Loomis Jonathan

Keeping Russia In The War: How Russian and Allied Generals Were 
Willing to Ruin Russia to Stay in the Fight| Suggestion = Order no. One

Theo Halpert
Quarterman Joshua

George Buchanan and Russian war participation | bbl.BYD

Ganieany Christine
Ryan Mitchel

Illuminating History of the Revolution Through Fiction: 
Boris Savinkov- Left-Wing Terrorist and Writer| SAC LOOP

Latre Alex
Young Zachary
TBA
Duletzke Nate
Halpert Theo
CANCEL, ILLNESS = Sergei Eisenstein & movies in the era of war & rev | SAC.webpage
Ryan Mitchel

WEEKS NINE AND TEN =
Brief written précis
Here is a definition of the précis
Before 5pm Friday of the previous week,
each presenter listed for the week ahead will send Senior Researcher Kimball
<kimball@uoregon.edu>
an electronic copy of their précis.
"Cut" and "paste" the précis into an email text.
Avoid sending reports as attachments.
By late Friday afternoon, or early Sat. morning, Senior Researcher Kimball will distribute these texts by email
to all members of the Research Group.
Each member of the Research Group should print out the email texts they receive for careful reading and annotation.
At the following Group meeting, we will all discuss that week's submitted texts.
The "interlocutor" is the Research Group member responsible to open the discussion of the text and keep it moving along.
But everyone is expected to participate, just as in the earlier discussions of oral reports.
At the end of each of these meetings,
members of the Research Group will hand their annotated copies of the précis to Senior Researcher Kimball
who will then distribute them to those who have made the reports, for their use and benefit.
WEEK NINE =
| | | |
| --- | --- | --- |
| Presenter | Topic | Interlocutor |
| | | |
| | | |
| | | |
| | WEEK TEN SCHEDULE JUST BELOW = | |
| | | |
WEEK TEN =
The Research Group will proceed as in the introduction to the previous week
| | | |
| --- | --- | --- |
| Presenter | Topic | Interlocutor |
| | | |
| | | |
| | | |
| | | |
| | | |
| | | |
IGNORE THIS TABLE =
The Research Group will proceed as in the above introduction to these final weeks
| | | |
| --- | --- | --- |
| Presenter | Topic | Interlocutor |
| | | |
| | | |
| | | |
| | | |
| | | |
| | | |

FINALS WEEK =
Submit individual, original, formal research report [ID]
The research report should be an appropriately expanded full narrative account, based on the brief written précis.
The research report should grow naturally from the précis but be about twice or three times longer,
once you have inserted further detail and narrative interpretation,
and attached a final bibliography.
Submit the final research report as a Microsoft-compatible formatted text attached to an email
and sent to Senior Researcher Kimball <kimball@uoregon.edu>.
Submit the final research report on the last day of finals week at 5pm (early submissions welcome).
Senior Researcher Kimball at this time will have been transformed, like Gandalf, into Editor Kimball.
Editor Kimball is not the evil twin of Senior Researcher Kimball, but he does perform a different role.
Thus transformed, Editor Kimball will judge each project as would a fellowship foundation committee,
or a press editor,
or a personnel manager of a firm you would like to join.
Kimball will judge the report as if it were an application
for a research grant,
for a monetary advance on a manuscript for publication,
or for a job.
You want to present your report in the finest way you can.
Your goal should be technical perfection and the highest level of persuasive clarity you can achieve.
Don't let anyone tell you the university is not "the real world".
It is both the real and the actual world.
For the most part, only those who have been to the university know there is a distinction.
For those who would like to explore the possibility of publishing their research report, one option would be the journal The Historian,
issued on behalf of Phi Alpha Theta History Honors Society.
They have a good record of publishing quality work by undergraduates and graduate students,
as well as by seasoned scholars.

IF YOU LOOKING AHEAD to NEXT YEAR =
*2014fa:The Research Group (seminar) will deal with World War One and the Russian Revolutions
TO LEARN MORE ABOUT THE STANDARD 10-WEEK STRUCTURE OF THE TERM RETURN TO TOP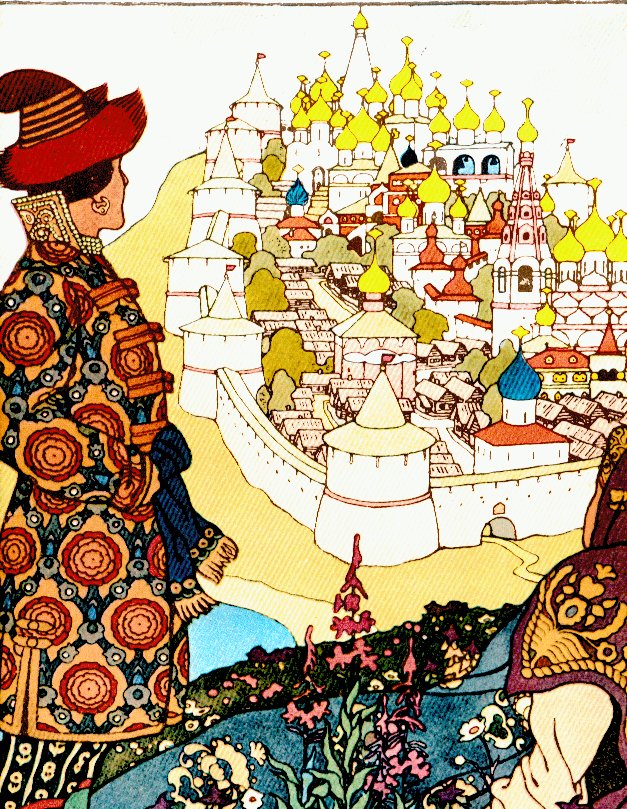 Ivan Yakovlevich Bilibin (1876-1942), illustrator
A visual idealization of tsarist authority
based on the lines

"Our Tsarevich, much amazed,
At a spacious city gazed...."

from
Skazki by Alexander Pushkin

|
|
|
|
|
|
|
|
|