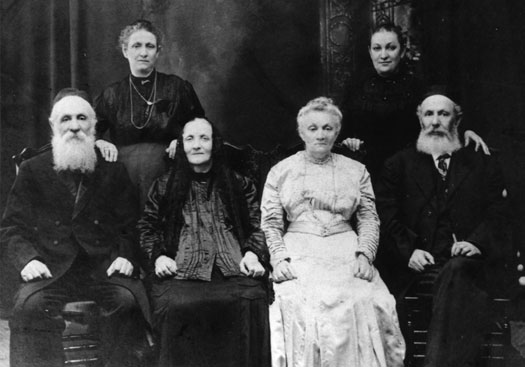 Photo taken in Brooklyn sometime between 1906 and 1911
Copies of this photo are in the possession of many branches of the Sambursky family. In the current generation, many of us knew the identity of one person, but not the others. I was told that I was named after the woman in the light colored dress, my great grandmother. I assumed she was sitting next to her husband. Much later I discovered that the man sitting next to her was not my great grandfather. It has taken many years, much searching and contacts with several distant cousins to puzzle out names and dates and the significance of this family photo.
My great grandmother was Reva Sambursky Zolotorofe (1851 Ukraine - 1926 Brooklyn NY), who left Priluki, Poltava, Ukraine with her husband and seven children and arrived in America on Nov. 12, 1890. They settled in Brooklyn, where the 8th child was born 6 weeks later.
The man on the right is is Reva's older brother Yirmyahu (Jeremiah) Sambursky (b.~1846 Ukraine - bef. Oct. 1916 NY). He brought his family to America the following year, 1891. According to family history, Jeremiah was reported to have strongly resembled their father, Yishaiahu-Tsvi Sambursky. (A great grandson of Jeremiah reported that a grandson, born in Oct. 1916 was named for Jeremiah, so Jeremiah must have died before that date.)
On the left is Nissan-Eliezer Sambursky (b.~1842 Ukraine - 1929 NY), Reva's oldest brother. He is the source of much of the information about the Sambursky and Lifshitz ancestors in the Ukraine. He arrived in the US on June 22, 1906 with his wife Shassa Malka nee Karminsky, their two unmarried daughters and his older sister Sara.
I had erroniously assumed that the other seated woman was Nissan's wife Shassa, but it was pointed out to me that she strongly resembles the other people in the photo. (Thank you members of JGSWVO.) The woman sitting next to Reva most likely is the oldest sister Sara (abt.1840 - Sept 1911). Sara had been married twice while living in the Ukraine, first to Marim Yanpolsky and after his death to someone with the last name Schub. She had been widowed again and came to the US with her brother and his family when she was 66 years old.
This picture was likely a Sambursky family photograph, documenting the reunion of sisters and brothers who had been separated for 16 years. Copies of this photo were probably sent to brothers and sisters who remained in Priluki and the other towns in the Poltava Gubernia, Ukraine, as well as to the families of a sister Chaya Shasse Sambursky Lifshitz and a son/nephew who had moved to Königsberg, East Prussia. (now Kaliningrad).
The identity of the women in the back row is still unknown. Some possibilities include: behind Nissan-Eliezer might be an unmarried daughter, either Elke Roise/Rose Sambursky (1882 - 1929 NY) or Feigele/Fanny Sambursky (1883 - ? NY). They arrived in NY together in 1906. The parents were then 64 and 62, the girls 22 and 23.
Behind Yirmyahu (Jeremiah) Sambursky might be his only unmarried daughter Feigeh Sambursky (1880 - ?)
Notes:
Most Sambursky descendents shortened or changed their last name. Samburg, Sambur, etc.
By 1929 Nissan-Eliezer Sambursky was recorded as Nathan L. Sambur.
The poem below was written by a great grandson of Yirmyahu Sambursky in response to seeing the photo above:
The Photo of my Great Grandfather Found on the Internet

It couldn't be easy to hold their heads, that pose,
my great grand aunts and uncles seated that way
and those who stand behind, distant cousins,
younger, obedient, and now without names.
All hands are tensed, not closed,
as if ready to grab some unnamed future.
But not my Yirmiyahu who sits fully at ease, legs crossed,
with just the start of a grin, perhaps ironic,
judging by the mien of those who were to come after.
Or knowing he bore the name Exalted by God,
why not look content and amused?

Who can say what that seer told them
to hold them just so —
about what he was doing under his hood,
and why they had come to his shop on DeKalb
near where their posterity would live proudly again
in Williamsburg and Bushwick and Bed Stuy to the east?
Could he have known that here
where all had been unsettled, crazed, inbred
would be outposts of the well-to-do and up-and-coming?
And what would I think one day
as I sit at this time machine
seeing one of my kind so calm and at ease
but, if truth be told, was likely so green
he didn't know enough to tense at the call to
Watch the camera.
Sit straight.
Look proud.
Then, Poof!
How quick it all is over.

— Alan Walowitz
Oct. 2013

This poem and others by Alan Walowitz
have recently been published
on the Jewish Literary Journal website (2015)
2016 A poetry chapbook by Alan Walowitz - Exactly Like Love, with the photo above
on the cover, has been published by Osedax Press