FEDERATED STATES OF MICRONESIA:
POHNPEI
Introduction and Background
The training project in 1998 and 1999 included site definition and feature descriptions at a large residential complex at Imwinsapw, Sokehs, a traditionally important area. This extensive architectural site has numerous stone features such as paved walkways, enclosures, house foundations, and ritual architecture extending from the shoreline of Sokehs Island well into the interior. In addition to dozens of prehistoric features, several of which were identified and mapped, the area also includes extensive Japanese fortifications of stonewalls, pits, and gun emplacements dating to the 1940s and a German colonial period road dating to the early 20th century. Both prehistoric and historic features were described and mapped in an effort to provide basic documentation in this area before additional construction development damages archaeological features.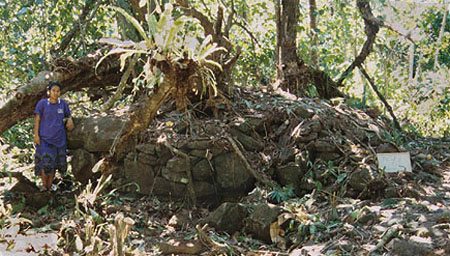 Southeast side of tomb enclosure at Nanimwinsapw site. Ray Ladore observes the wall construction from inside the enclosure. Photo: W.S.Ayres
In 1999, we did clearing and mapping of the major tomb in the site complex at Nanimwinsapw; this is a 15 by 20m stone walled enclosure with a central tomb platform that sits at the shoreline and extends out into the mangrove swamp.
Other training projects included additional GPS point survey locations and detailed mapping in the well-known Nan Madol site on Pohnpei's east coast. As well, we developed a plan to work with the HPO to create a comprehensive site record database. Thus, the interaction involved both collaborative archaeological research and cultural resource management.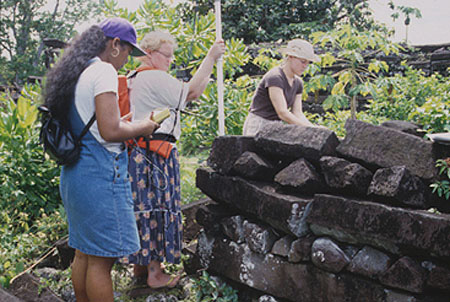 Recording mapping data points at Nan Madol using Global Positioning System unit. Kristin Vanwert (right, University of Montana) takes notes while Lisa Andon holds the recording antenna, and Derelisa Ardos (left) reads the instrument panel screen reporting the location. Photo: W.S.Ayres
Acknowlegements: Emensio Eperiam, Chief, Historic Preservation Office, Pohnpei State, Federated States of Micronesia, was the key administrator on Pohnpei. David Panuelo, Head of Lands and Natural Resources for Pohnpei State and Condios Cornelios, Head of the Land Surveying Office, were instrumental in providing resources for suveying and map management. Project participants included: Retty Lawrence, HPO Site Recorder and Oral Historian, Lisa Andon and Lerleen David, Maritime Museum staff, Rosenda Etse, HPO staff, Derelisa Ardos, College of Micronesia Student Trainee, and Raymond Ladore, an independent field archaeologist. Dr. Rufino Mauricio, Chief Archaeologist and Acting Historic Preservation Officer, for the Federated States of Micronesia, served as the FSM liaison.
Pohnpei Bibliography
Ayres, William S.
Ayres, William S. and Alan E. Haun
1990
Prehistoric Food Production in Micronesia. In Pacific Production Systems: Approaches to Economic Prehistory, ed. Douglas Yen and M.J.M. Mummery, pp. 211-227. Papers from a Symposium at the XVth Pacific Science Congress, New Zealand. Canberra: Research School of Pacific Studies, Australian National University.
---