Paradise Lost (1667)
John Milton
---
All in one file: [PDF]

Note on the e-text: this Renascence Editions text was transcribed by Judy Boss in Omaha, Nebraska, and is provided by Renascence Editions with her kind permission. This edition is in the public domain. Be aware that this is a text from the first edition of 1667, having ten books instead of the second edition's twelve, and that line numbers do not necessarily correspond with those in the textbook you were assigned. Content unique to this presentation is copyright © 1997 The University of Oregon. For nonprofit and educational uses only. Send comments and corrections to the Publisher, rbear[at]uoregon.edu.
---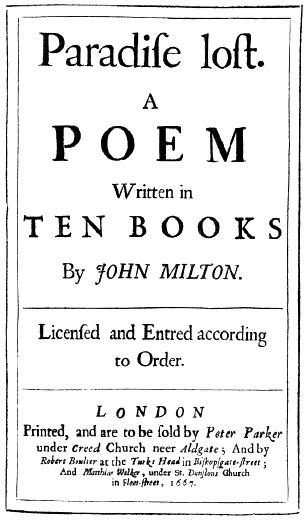 title page of 1667 edition, second imposition.
See Milton's Poetical Works, Facsimile Edition (Fletcher, 1945) for a discussion of the title pages.
---
Contents:
---
This etext was typed by Judy Boss in Omaha, Nebraska.
HTML conversion by R.S. Bear, December 1997.