Complaints.
Edmund Spenser
---
A Note on the Renascence Editions text:
This html etext of the Complaints was prepared from Alexander B. Grosart's The Complete Works in Verse and Prose of Edmund Spenser [1882] and from Ernest de Sélincourt's Spenser's Minor Poems [Oxford, 1910] by Risa S. Bear at the University of Oregon. The text is in the public domain. Coding is copyright © The University of Oregon, February 1996.
---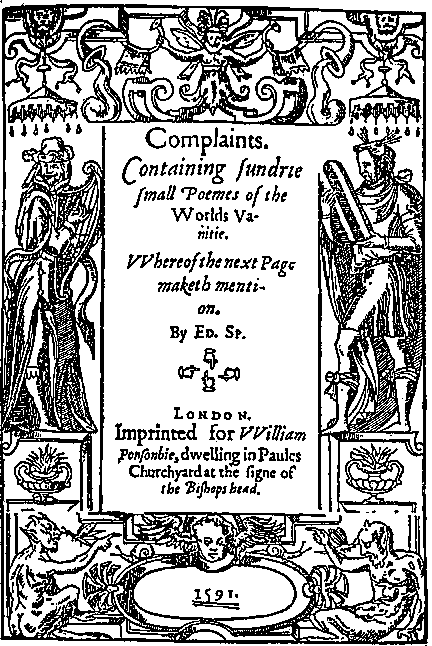 Complaints.
Containing sundrie
small Poemes of the
Worlds Va-
nitie.
VVhereof the next Page
maketh menti-
on.
By Ed. Sp.
+
+ +
+
LONDON.
Imprinted for VVilliam
Ponsonbie, dwelling in Paules
Churchyard at the signe of
the Bishops head.
1591.
---
A note of the sundrie Poemes contained
in this Volume.
---
Gentle Reader

INCE my late setting foorth of the Faerie Queene, finding that it hath found a fauourable passage amongst you; I haue sithence endeuoured by all good meanes (for the better encrease and accomplishment of your delights,) to get into my handes such smale Poemes of the same Authors; as I heard were disperst abroad in sundrie hands, and not easie to bee come by, by himselfe; some of them hauing bene diuerslie imbeziled and purloyned from him, since his departure ouer Sea. Of the which I haue by good meanes gathered togethaer these fewe parcels present, which I haue caused to bee imprinted altogeather, for that they al seeme to containe like matter of argument in them: being all complaints and meditations of the worlds vanitie; verie graue and profitable. To which effect I vnderstand that he besides wrote sundrie others, namelie Ecclesiastes, & Canticum canticorum translated, A senights slumber, The hell of louers, his Purgatorie, being all dedicated to Ladies; so as it may seem he ment them all to one volume. Besides some other Pamphlets looselie scattered abroad: as The dying Pellican, The howers of the Lord, The sacrifice of a sinner, The seuen Psalmes, &c. which when I can either by himselfe, of otherwise attaine too, I meane likewise for your fauour sake to set foorth. In the meane time praying you gentlie to accept of these, & graciouslie to entertaine the new Poet, I take leaue.
---
Continue on to The Ruines of Time.