Glacial Depositional Features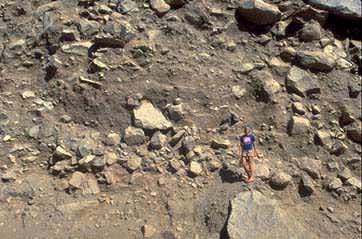 Glacial Till. Sierra Nevada, California. The unsorted
and unstratified nature of glacial till make it a distinctive deposit.
Outwash. Water, running off the mouth of the glacier, redistributes the glacial sediment. Floodplains of these rivers are called outwash plains. The sediment deposited by these rivers is generally very coarse.
Till plains. Vast areas of the northern midwest are covered by till deposited by continental glaciers. Where the glaciers also left behind large chunks of ice in the till, we now see kettle lakes. These lakes formed because the ice eventually melted, leaving behind a depression. The lake-covered till plain in the photo below is in central Minnesota.

Back to Glaciers in National Parks.
Back to Glaciers.
Back to Slide index.