Cambrian-Precambrian unconformity, Grand Canyon, AZ.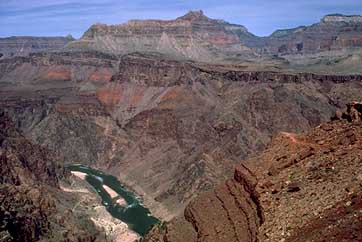 Similar to the other photo of the "Great Unconformity", this photo shows Cambrian Tapeats Sandstone overlying Precambrian Rock. However, this one is much more complicated. It shows that the Tapeats overlies Precambrian sedimentary as well as metamorphic rock. This older sedimentary rock is most noticeable in the foreground and as the red-colored rocks in background.
The older sedimentary rocks, which also lie nonconformably on the metamorphic rocks, were preserved locally in down-faulted blocks beneath the pC-Cambrian unconformity. This photo shows that nonconformity as well as one of the faults. If you can't see those features, click here for some help.
Click here to see a geologic map of the Inner Gorge--but for an area which does not show the Proterozoic rocks.
Back to Unconformities
Back to Structural Geology
Back to Structure Syllabus