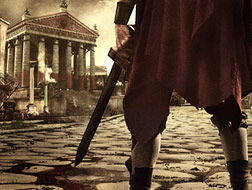 New Beta!!!
Rewrite scenes from HBO's "Rome"! You only need IE 6.0 or Safari 1.0 or newer! (Sorry Firefox users!) Powered by Filemaker Pro 8.0 Instant Web Publishing!
Interactive Activities (Full Page Views:
The Life and Times of Traianus Hadrianus Augustus (Crossword)
Bread and Circuses (Crossword)
Roman Opponents (Matching Quiz)
Roman Opponents (Matching Quiz with suggested readings)
All interactive activities created with

Free Interactive Software for Educators developed at the University of Victoria, British Columbia, Canada to promote the development of online learning

Looking for images for a report or presentation on the ancient world? Check out my Flickr photo sets and the images of the ancient world database! Free for non-commercial, educational use.