Learn about Slow Food
---
PAN BAGNAT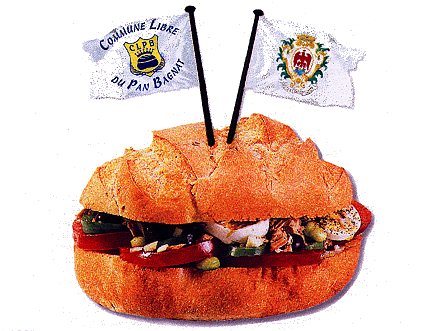 The Pan Bagnat is a classic Niçois sandwich and a great item for picnics, tailgate parties, fishing trips, and any other casual dining opportunity. The good citizens of Nice have reason to be proud of their Pan Bagnat tradition, and take it seriously, as evidenced by the establishment of the Commune Libre du Pan Bagnat: Association pour la Defence et la Promotion de l'Appelation Pan Bagnat. Visit their website (in French) for more information, including an official recipe, endorsements, and songs. See also this correspondence from a Niçois reader.
---
PAN BAGNAT RECIPES
As with most other Mediterranean foods, success with the Pan Bagnat does not come from slavish adherence to a particular recipe or list of ingredients, but from high-quality seasonal ingredients used creatively and eaten without hurry in good company.These recipes are provided for loose guidance and inspiration.
My first exposure to Pan Bagnat was through the writings of Elizabeth David, one of the most influential cookbook authors of the 20th century. Most of her works are still available and are well worth reading. The first example is from A Book of Mediterranean Food (John Lehmann, 1950):
PAN BANIA (a Provençal Sandwich)

Cut fresh french rolls in half lengthways. Rub them with garlic. Spread with stoned black olives, pieces of red pimento, tomato and young raw broad beans. Pour on a little olive oil and vinegar over the rolls, join the two halves together and put them under a heavy weight for 30 minutes.
Pan Bania is served in Provençal cafés with a bottle of wine when a game of boules is in progress. The ingredients vary according to what is in season, or what is available. There may be anchovies, gherkins, artichoke hearts, lettuce. Probably it is the origin of salade niçoise which is made with the same variety of ingredients, but without the bread.
Here are three more versions collected by Elizabeth David, this time from Summer Cooking (Museum Press, 1955)
PAN BAGNA 1 (Recipe from From La Cuisine à Nice, H. Heyraud)

Pan Bagna is simply a slice of pain de ménage moistened with good Niçois olive oil (sometimes the bread is rubbed with garlic) covered with fillets of anchovy, slices of tomatoes, capers and gherkins; vinegar is optional. It is rare that a game of boules in the country (and everyone knows how addicted the Niçois are to this sport) comes to an end without having been interrupted for a few bottles of Bellet and a Pan Bagna.

PAN BAGNA 2 (Recipe from Recettes et Paysages. Sud-Est et Mediterranée)
[Andrew's note: this is probably my favorite of the series]

For 4 people: ¼ lb. Black olive, ½ lb. Tomatoes, a celery heart, 2 ozs. of mushrooms, 1 artichoke, a small tin of anchovies in oil.
Cut a long loaf of French bread in half, right through. Soak these two halves in a little salt water then in olive oil. [Note: "soaking" is too much; mix some good quality sea salt in water & moisten the bread well with a basting brush]. When the bread is well impregnated, on one half put slices of tomato, small pieces of the cooked artichoke heart, slices of the mushrooms (cooked as for champignons à la grecque), the celery heart cut into small strips, then the stoned black olives and a few fillets of anchovies. Cover with the second half of the loaf, put a heavy weight on the top for half an hour.
Cut into thick slices for serving.

PAN BAGNA 3

A large round, flat country loaf, ½ litre (about ¾ pint) of olive oil. Anchovies, fillets of salt herring, rounds of tomato, green and black olives, a lettuce.
Cut the loaf through the centre, in two rounds. Put it on a dish and cover with olive oil. Leave to marinate for an hour. Strain off the oil, spread one half with all the ingredients; cover with the other half of the loaf. Put on a dish with a weight on top. Serve the next day, cut into slices, on an hors d'oeuvres dish.
---
ANDREW'S FAVORITE
copyright 2000 Andrew Bonamici
Not a Niçois Pan Bagnat, but a very tasty combination. Ingredients should be available at most gourmet groceries or natural food stores. Take your time shopping and enjoy that experience as part of the process. The foundation is a good loaf of Ciabatta or a similar French or Italian artisanal bread. Cut in half lengthwise & brush the insides with extra-virgin olive oil & balsamic vinegar. Spread one side with a soft goat cheese -- Juniper Grove Farm (Redmond, Oregon) or Cypress Grove Chevre (McKinleyville, California) are highly recommended. Spread the other side with olive tapenade. Add layers of salami, sliced ripe tomato (if in season), grilled artichoke hearts, and strips of roasted red pepper. Close it up & press lightly until serving. Assemble at least a few hours before serving so the flavors have time to marry.
If you have comments or suggestions about this Pan Bagnat page, e-mail Andrew Bonamici.

---
---
page created
21 April 2000
last updated
02 July 2007