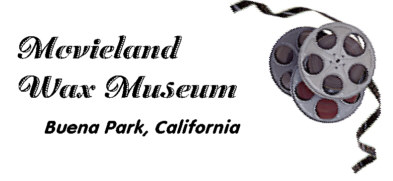 With my passion for movies I couldn't resist going to a wax museum that specializes in movie stars and recreating scenes from my favorite movies. I've been to several wax museums in my life but I've never been to one that had such truly lifelike sculptures and took such care to reproduce a scene from award-winning films. I was particularly impressed with the sculptures of Ward Bond, Chuck Connors, Toshiro Mifune, Ed Asner, Sophia Loren, Eddie Murphy, Vivian Leigh, Yul Brynner, Deborah Kerr, and Chuck Norris. As I was taking their picture I couldn't help but expect them to suddenly shift their eyes and look directly at me. I was particularly thrilled with the recreation of the chariot race scene from Ben Hur. Even the director could not have gotten that close and examined the horses, chariot and Charleton Heston frozen in such an exciting pose. I also enjoyed the arena scene from Spartacus, winter scene from Dr. Zhivago and a scene from Guns of Navarone.

No offense to the memory of George Burns, but I would have preferred to cuddle up a little closer to the sculpture of Tom Selleck!
I hope you enjoy my pictures grouped by theme below. I used a Sony Mavica digital camera and had a little problem with the bright spotlights glaring on some of the sculptures. The model I used does not have a way to change the F-stop to compensate for problematic lighting but I really enjoy its ability to take pictures indoors without the need for a flash and the convenience of saving the pictures to a floppy disk rather than internal memory. When I filled up the disk, I could just reach in my pocket for a fresh one and keep shooting. I didn't have to carry a computer to download the pictures before beginning a new shoot. I used Photoshop's smudge tool to try to feather out the glare where I could and reduced the image size to a maximum dimension of 4" after cropping for maximum content. Since we are still saddled with fairly limited bandwidth, I felt 4" would still provide interesting detail and download at a reasonable rate with a 28,800 baud modem. I also used Photoshop's sharpen filter to add crispness and saved as a Medium quality Jpeg to minimize overall file size. The photograph above, of me and George Burns, was scanned from a print with a Hewlett Packard Scanjet 3200C. Again, I loaded it into Photoshop, cropped it, sized it, sharpened it, and reduced the resolution from 150 dpi to 72 dpi for onscreen display. I have one image that I cannot identify. If you know the actress in this mystery picture, please e-mail me so I can add her to the appropriate grouping. If you're planning a trip to the Los Angeles area and want to see these wonderful sculptures for yourself, check out the official Movieland Wax Museum's homepage for ticket information.
---




---
Page Designed by Mary Harrsch
Images Copyright 1998 All Rights Reserved