STORIES ABOUT THE ARNOLDS, McEWENS,
BARTLOWS & SELLERS
The following narratives were written by Bob Arnold to describe what is known about his family and the family of his wife, Ann Cabell McEwen Arnold.

THE FAMILIES BARTLOW AND SELLERS

Bengt and Anna Danielson -
Bob Arnold's maternal grandparents

Oscar and Ora Carter Arnold -
Bob Arnold's paternal grandparents

Delbert Rudolph and Ada Amelia Arnold -
Bob Arnold's parents

Robert Newton and Orie Carr Tandy Crosby -
Ann Arnold and Martha Kimball's maternal grandparents
William Lawrence and Bertie Sellers McEwen -
Ann Arnold and Martha Kimball's paternal grandparents

John David and Helen Crosby McEwen -
Ann Arnold and Martha Kimball's parents


KS Winfield: THE FAMILIES BARTLOW AND SELLERS
Two photos from the late 19th century depict members of Ann Arnold and Martha Kimball's paternal family line. They lived in southern Kansas, in the farm countryside around Winfield.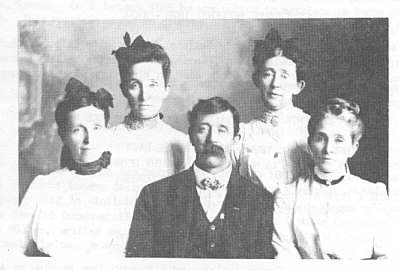 .
This is a picture of Elizabeth Jane Bartlow, her sisters and brother:
Left to Right Elizabeth Jane, Unidentified Sister, Virgil, Pearl and Effie.
From: jerry Curtis
To: rdarnold@pacifier.com
Sent: Sunday, July 30, 2000 9:19 PM
Bob Arnold adds:
Elizabeth Jane Bartlow was Ann Arnold and Martha Kimball's great grandmother.
Our records identified her as Eliza Jane
The next picture shows Elizabeth with her husband David Eugene Sellers and children: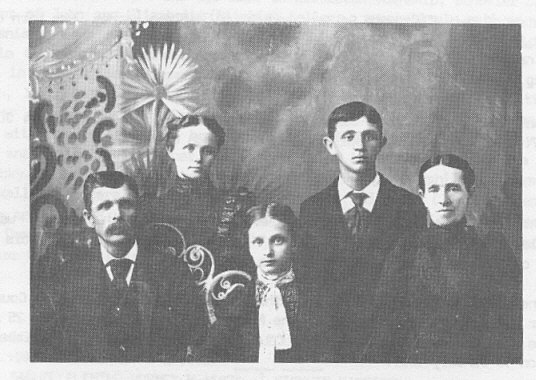 This is a picture of David Eugene Sellers Family: Left to Right
David Eugene, Berta Maude, Annetta Elizabeth,
Howard Iven and Elizabeth Jane (Bartlow) Sellers
From: jerry Curtis
To: rdarnold@pacifier.com
Sent: Sunday, July 30, 2000 9:22 PM
Bob Arnold adds a note about Grandmother Berta Maude:
Our records say "Bertie," not "Berta."
Some interesting background on the Sellers family (also via Bob Arnold) =
1808:TN DeKalb Co. Birth of SELLERS,JOHN (grandfather of Bertie above)
1809:PA Allegheny Co. Birth of RITCHEY,ELIZABETH (later: wife of SELLERS,JOHN)
1832:Where unknown. Wedding of SELLERS,JOHN and RITCHEY,ELIZABETH
"They settled on a farm in what is now Littleton township [IL] and on that farm she lived and died."
1874jy07:IL Littleton Twp. Death, at the age of 67 or 70, of SELLERS,JOHN
One obituary reported:
"He was as well as usual at dinner time and by 3 o'clock was a corpse."
The other reported:
"About the year 1838 he made a bright profession of religion and
for a number of years lived a humble and devoted Christian life, in a church of the Missionary Baptist.
Getting into some trouble he withdrew his membership from the church,
but recently he has shown some strong indication that had made peace with God."
[Apparently not a moment too soon]
1893my22:IL Littleton Twp. Death, at the age of 84, of SELLERS,ELIZABETH (nee RITCHEY)

BACK TO TOP

Bengt and Anna Danielson and their families
Bob Arnold's maternal grandparents
Bengt Danielson was born on June 13, 1856 in the village of Harlosa in southern Sweden, in the province of Malmohus, better known by its name dating at least back to the Middle Ages, Skane. The village was very small, consisting of a church, an inn, and some farms. His parents were Daniel Andersson (1808-1875) and Kjerstena Pehrsdotter Andersson (1810-1876), both also from the same province.
His parents and grandparents on both sides were also from the same province. Their surnames, it may be observed, were patronymic, but not fixed or hereditary. Bengt's father's first name, Daniel, became the basis of Bengt's surname, rather than his father's last name, Andersson. Bengt's mother's surname, Pehrsdotter, derived from her father's first name, Pehr, rather than his last name, Pehrsson..
When Bengt was 28, he married his first wife, 25-year old Albertina Paulina Anderson, in the city of her birth, Halsingborg, Malmohus. They emigrated to the United States, according to the 1900 census, in 1887 with their two sons and a daughter, who ranged in age from one to three years old.
In the decade beginning in 1880, they were among almost 22,000 persons who emigrated to America from the province of Malmohus. In that ten-year period, emigration from the whole of Sweden reached its highest level – almost a third of a million people.
Before their emigration from Sweden, the Danielsons had been baptized as Mormons, members of the Church of Jesus Christ of Latter-day Saints. This religion was founded by an impoverished New York farmer, Joseph Smith, Jr. on the basis of golden plates he claimed to have received from an angel, Moroni, son of a prophet named Mormon, in 1827. These plates, when reportedly translated by Smith, were published in 1830 as The Book of Mormon, a work considered to be holy scripture by the church's adherents. Despite persecution at several successive locations in Ohio, Missouri, and Illinois (where Smith was murdered), the newly founded religion grew steadily in membership. In 1848, a majority of its members (by then in Nebraska) joined in a wagon train migration under the leadership of Brigham Young, the President of the Council of Twelve Apostles, to a new Zion, what is today the State of Utah.
As a proselytizing religion, Mormons began in their first decade to send lay missionaries abroad. In 1850 they established a Scandinavian mission in Copenhagen, Denmark, and soon began a program of loans to facilitate emigration to America. In both Denmark and Sweden in these years there was resentment over fees and tithes among some communicants of the established Lutheran Church (which in Sweden remained the established church until January 1, 2000). Margareta Broon explains that the Mormon Danielsons may have had no choice but to emigrate: "There was a great fear of religious groups outside the church, and between 1726 and 1868 all sorts of religious meetings without a pastor of the [established] church were prohibited. Roman Catholics were not really allowed in this country until the middle of the twentieth century! Many Swedes, even if they did not want to join a free church, resented the way the clergy acted as guardians and longed for a free country."
Swedes in the north might seek to emigrate in search of good soil, but Skane, Broon points out, "is and always was, a an agriculturally very rich province.." But "people were poorly paid," she writes, "and saw no way of bettering their lives." Skane always was dominated by agriculture and also by the large estates owned by the nobility. There are [even today] lots of manors and castles in Skane with much land belonging to each. These big estates of course had to have many people working, and they were poor and often had very little chance of promotion or hope of ever being able to do better."
Despite poor economic prospects and dissatisfaction with the established church among the Swedes, there were far fewer of them who emigrated than there were Danes, because of the severe limits on Mormon missionary activity imposed by the State church in Sweden.
If the Danielsons were like other converts to Mormonism, a chief factor in their decision to emigrate would have been their spiritual commitment. "After their baptism," according to Conway B. Sonne, "many converts said they experienced a compelling desire to leave family and friends and travel to Zion….a sanctuary for the 'pure in heart'….a place, America, where the Saints could build the Kingdom of God and work out their own salvation without distractions."
Since most Mormon emigrants were members of "emigrant companies," it is very likely that the Danielsons were part of such a group, organized by representatives of the Church. If so, they traveled from Liverpool, England to New York City on a steamship of the Guion line under contract to the Church. There were six such sailings in 1887, each carrying 150 to 609 Latter Day Saints. Crossing the Atlantic would have taken about eleven days. Once in America they probably traveled by railroad to the vicinity of Salt Lake City, Utah (formerly Deseret) Territory.
The Sanpete valley that became the Danielsons' destination had been the home only of Utes forty years earlier. There were conflicts arising from the Mormon settlement of Ute lands, including Ute theft of horses and goods and Mormons killing Utes in retaliation. But, since American Indians, according to Joseph Smith's revelations, were Lamanites, remnants of the lost tribes of Israel, the Mormon leadership sought to convert them and make farmers of them. "The Indians were not wolves to be destroyed," Wallace Stegner wrote, "but souls to be saved."
It was reportedly in response to an invitation from Ute Chief Walker to Mormon leader Brigham Young in Salt Lake City to come to the valley to teach farming to the Utes in 1849 that led Young to send 224 men, women, and children, along with their 240 head of cattle, and horses, dogs, and chickens to the isolated area.
The valley, about 60 miles long and 30 miles wide, could be accessed only by narrow passages at either end. It was a place of grasses, sagebrush, and pinyon pine, and only one-eighth of the area was considered arable. Mountains surrounding the valley reached about 11,000 feet, and the valley floor was at about 5,000 feet.. Even though the terrain was considered forbidding and inhospitable and annual rainfall was about a dozen inches or less. Young considered the location "God-appointed."
Upon the death of Chief Walker, his brother and successor, Arrapine, deeded the entire valley to Brigham Young, as trustee for the church, "in consideration of the goodwill which I have to the Church of Jesus Christ of Latter Day Saints."
Sanpete County (named for a Walker brother, Sanpeetch) was known throughout the territory as "Little Scandinavia." Seventy-seven percent of the population in 1880 was Scandinavian, most of whom were of Danish birth. As elsewhere in Utah Territory, a small minority of men had multiple wives, as did Brigham Young (who had 20 wives) and other church leaders.
Polygamy as a principle of the Mormon religion had been urged upon the early settlers. Indeed, the founder of Manti, Isaac Morley, warned the young people during the first winter in the valley that "a curse would follow those who oppose that principle." By 1890, however, eight years after passage of Federal legislation prohibiting the practice, and in order to gain admission to the union, the Church issued a manifesto to end polygamy.
The Danielsons, with their children, Otto, Albert, and Josephine, settled in Mayfield, Sanpete County, perhaps to be with other Scandinavians or perhaps at the direction of the Church. It was five days hard travel from Salt Lake City, probably by stagecoach, since several years would pass before the railroad was extended to the valley. By 1894, Bengt had become a naturalized citizen. In Mayfield, three additional sons were born to them – Fritz, Joseph, and Hyrum – before the death of Albertina Paulina , Bengt's wife, in September, 1897.
On April 13, 1898, Bengt married the person who was to become my maternal grandmother, 34-year old Anna Nielson (Nilson) in Salt Lake City. She was also an immigrant from Sweden (1895), having been born in the tiny village of Lyngby (also in Skane) on June 8, 1864. By the time of the Census of 1900, they had their first child, Oscar John, born on January 7, 1899. The following year, on August 3, 1900, a second son, Axel Vilhelm (William) was born to them in Mayfield.
According to the 1900 Census, Bengt was a mason and the oldest of his sons, 16-year-old Otto, was a farmhand. Bengt owned the family home, free of mortgage, and being a bricklayer, had probably built the house himself, using the hard baked alkali mud of the area.. The Census also reports that, except for the smallest children, all in the household could read and write English.
Although the valley had appeared unpromising for agriculture, fifteen settlements had been founded by 1900 and its population had grown to 16,313 persons. The county led the state in number of milk cows and in oat production, and was second in number of sheep and in wheat production.
By mid-1902, the Danielsons had moved from Mayfield to Manti, the county seat twelve miles away. The town had been incorporated in 1851 by the Territory of Deseret, and it was one of the first incorporated towns in the territory. It was named for a place and a general in the Book of Mormon. At the time of its founding, it was surveyed into 110 lots of four acres each, one for each head of household and an additional lot for each additional wife of such heads of households.
Although Manti was a small town of perhaps 3,000 persons, it was an important one because in the decade beginning in 1877 an imposing temple was constructed on a site designated by Mormon leader Young. (As late as 1942, it was one of only eight such temples in the world.) Such temples have a special role in the religious life of Mormons. According to Stegner, "One can be baptized or married in the temple, one can have relatives sealed to him for all eternity, one can be baptized vicariously for the dead (generally the dead of one's own family) and one can have all one's dead relatives sealed to him to insure the gathering-in of all the souls at the last trump."
All members of a family in Utah settlements in the late nineteenth century had to be hardworking. Even if their principal occupation was not that of farmer, husbands typically grew crops and raised pigs, cattle, and chickens for their use and for cash, and did the necessary slaughtering and butchering of the animals. Wives made soap, heated water on stoves or in fireplaces, and scrubbed clothes on Mondays and used sadirons heated on stoves to iron on Tuesdays. They planted and tended vegetable gardens , cleaned house, knitted and mended things to wear, slopped pigs, and milked the cows. As soon as children were seven or eight, they assumed responsibilities under the then "cultural division of labor" between boys and girls.
On June 13, 1902, Anna gave birth to Anna Elvera (Vera) Matilda, in Manti. Four years later, on February 21, 1906, Ada Amelia (who was to become my mother) was born. On April 26, 1910, the last of their children, Thelma Blanche, was born.
Since Manti was a temple town and almost exclusively Mormon, it is likely that Ada and her sisters were early initiates into Mormonism, including, for girls twelve years old and older, membership in the Young Ladies Mutual Improvement Association. These organizations were at the center of social life for young people, especially in small towns, by being the sponsors of dances, amateur theatrical groups, picnics, hayrides, swimming parties, athletic events, and other games. Their central purpose, however, was reflected in their prayers, classwork and songs. The Mormons welcomed Gentiles, a name they used for non-Mormons. The groups typically met weekly from September to June.
Ada and her siblings attended school in Manti, but it appears that upper secondary school programs may not have been offered during the period of their youth.
As a boy, I met my Aunt Vera, who was married to a farmer, Jay Lowry, and my Aunt Thel, who was married to a sheepherder, Ray Lewis, but did not meet her brothers, Axel and Oscar. My mother had apparently lost touch with her half-brothers and half-sister, for I didn't ever hear them mentioned in our household.
Bengt Danielson died in 1930 at the age of 74, five years after the death of his wife, Anna, who died at the age of 60. Both died in Manti, where they are buried.
Sources

Alexander, Thomas G., Utah: the Right Place, Gibbs Smith, Publisher, Salt Lake City, 1995

Ancestral File, Family History Library, Church of Jesus Christ of Latter Day Saints

Broon, Margareta (Susan's teacher in a folk school in Sweden), personal communication, July 15, 2000

Daughters of the Utah Pioneers of Sanpete County, Utah, These Our Fathers, Art City Publishing Company, Springville, Utah, 1947

The New Encyclopedia Brittanica, Chicago, 1988

Sanpete County Commission, The Other 49ers, A Topical History of Sanpete County, Utah, 1848 to 1983.

Sonne, Conway B., Saints on the Seas: A Maritime History of Mormon Migration, University of Utah Press, 1983

Stegner, Wallace, Mormon Country, Duell, Sloan, and Pearce, New York, 1942

United States Bureau of the Census, Sanpete County, Utah, 1900, 1920

Oscar and Ora Arnold and their families
Bob Arnold's paternal grandparents
My father's father, Oscar Duke Arnold was born on March 1, 1882 in Metcalfe County, Kentucky to Caleb Thomas Arnold and his wife, Susan Margaret Markham, whose places and dates of birth are not known. Caleb was a farmer who raised rye, corn, and wheat. His seven brothers and sisters were Mollie, Minnie, Robert, Merritt, Will, Hattie, and Lulu. The names of their parents are not known.
My father's mother, Ora Ada Carter was born January 24, 1888 near Morgantown, Butler County, Kentucky. She was the second daughter (the other was Belle Zora) of Willis Franklin Carter, born near Morgantown on July 18, 1847 (or 1846) and his wife, Matilda Hall, born in Kentucky on November 23, 1850. (At the time of his marriage to Matilda, Willis was the father of two sons by his first wife, Eldridge Jefferson and William Virgil.)
(Following Matilda's death on July 14, 1893 in Nashville, Tennessee, Willis married Minnie B. Arnold, according to my 1957 notes, and they had nine children. Willis died in Hopewell, Virginia on April 21, 1933.)
Twenty-four year old Oscar married sixteen-year old Ora Carter on February 27, 1904 in Oakville, according to Ora in 1959 (but, since no Oakville is shown on maps, could be Oakdale). On January 24, 1906, Ora gave birth in Cave City, Barren County, Kentucky, to Delbert Rudolph, who was to become my father.
Cave City had been founded about a half-century before, and was named for a nearby cave with a small running creek that was to be the basis of the town's water supply. It was also considered a good location for a settlement because it lay along the Telford Turnpike, a road joining Louisville, Kentucky and Nashville, Tennessee. Its founders also saw its nearness to Mammoth Cave, only eight miles away, as giving promise of the town becoming a resort.
"Perhaps the most important event in Cave City's development," according to a later pictorial history of Barren County, "was the completion of the Louisville and Nashville Railroad." It served Federal troops in the area during the Civil War, but became a target for a Confederate general whose troops on two occasions early in the war destroyed a locomotive, freight and passenger cars, and the depot.
Kentucky had remained in the Union during the Civil War, but in Barren County and other southern counties there were many southern sympathizers. Hundreds of Confederate veterans are buried in the county's cemeteries. Whether Oscar's father, Caleb, served in the war is not known.
In 1910 the Arnolds were residing in Hiseville, about eight miles from Cave City (and not far from Bear Wallow) with their four-year old son, Delbert and a daughter, Della P., almost two; Oscar's widowed mother, Susan Margaret Arnold, 67, his sister, Mollie F. 40, and his brother, William J., 29. Oscar and William are identified as general farmers working neither as employers or employeees, but, in the words of the 1910 census, "working on own account" on land rented by Oscar. Except for the small children, all in the household could read and write.
Although my brothers and sisters had always understood Oscar to be partly of American Indian descent, and this seemed to be confirmed by his wedding picture (now lost), the 1910 Census indicates with a "W" that Oscar was a white person. My sister, Joyce, recalled years later: "I remember Grandmother telling me Oscar's secret – shame, shame. I asked Dad about it and his reply: "Nothing to be ashamed of; they were Cherokee and clean Indians."
The county the Arnolds were living in had been established in 1798, and most of its original settlers migrated from Virginia and were of English, Scottish, Welsh, or Irish descent. Many of the settlers were Revolutionary War veterans who had been granted land in Kentucky for their service, but I have found no record of any grant to our family's ancestors.
Although much of Barren County was timbered and richly vegetated at the time of settlement, the county took its name from the meadowlands in the northern part (which included Hiseville) which resembled the prairies of western America. Since the the northern part became the most productive and desirable farm land in the county, it was not poor soil that accounted for the scarcity of woodlands, but, according to later speculation, it should be attributed to the Indian practice of burning some lands to attract buffalo.
"A typical farm scene in early Barren County," wrote authors of Barren County Heritage," might have included cattle grazing in a meadow, hogs foraging in a woodlot, a tobacco patch in a piece of new ground cleared in the woods, and corn field in an older clearing." Corn, cattle, and hogs were basic to a family's subsistence, and tobacco was beginning to be an important money crop after the Civil War.
By the 1870's, when Caleb and his wife were young adults, fifteen towns (most of which had populations of fewer than 50 persons) had been established in Barren County, according to an early local historian, Franklin Gorin.. What towns they may have lived in is not known, but, if they were Protestants, as they probably were, they would likely have several churches -- Methodist, Christian, or several kinds of Baptist -- to choose from. With regard to other religions, the same author said, "There are in the county about fifty Jews and about seventy-five Catholics." He also reported that the "colored people had three churches."
Information about Oscar and Ora and their parents is scarce, partly because Kentucky didn't establish its first requirement for registration of births and deaths until sixty years after it became a state. Even after that date, there was no systematic collection of information. And records for that eastern portion of Barren County that became Metcalfe County were lost in a fire in 1867. Ora's grandparents, Winslow and Elizabeth Carter died in their 90's in Virginia.
The 1920 census for Barren County does not list the Oscar Arnold household, so the family may have been overlooked by the enumerators or they may have moved. By that date they would have added two sons and a daughter to their family – Stanley Reid, Jesse, and Ruby Jewell (who later changed her middle name to "Jo").
By 1930, Oscar and Ora were living in Guthrie, Logan County, Oklahoma. The City Directory of that year lists the residents at 1820 East Grant Street as Oscar, a railroad car repairman employed by the Atchison, Topeka, and Santa Fe Railway, and his sons, Delbert, a radio repairman and Reid, a baker – neither of whom are shown as employed -- and Jesse, no occupation given. Others residing there that year, but not listed, were Oscar's wife, Ora, and Delbert's wife, Ada (and son, Kenneth), and possibly Oscar's sisters, Mollie and Minnie.
When the Arnolds moved there, Oklahoma had been a state only a little more than two decades. Designated earlier as Indian Territory, it had been granted as reservations to the Five Civilized Tribes -- Cherokee, Choctaw, Creek, Chickasaw, and Seminole. Although these Indians residing in several southern states on lands reserved for them had largely given up tribal ways, had become educated, and had settled as farmers, land-hungry whites had pressured the Federal government in the 1830's to remove the Indians from their homes and relocate them to the Indian Territory that had been promised them in perpetuity. Over a thirty-year period following the Civil War, however, the Federal government moved other tribes into their territory, provided for individual allotments to tribal members, and made remaining lands available to whites who had moved in ever-increasing numbers to the territory.
What led the Arnolds to leave Kentucky for Oklahoma we do not know. Indian reservations were essentially a thing of the past in Oklahoma, with most lands now owned by railroads, corporations, and white settlers. It was a farming state, with high levels of grain and livestock production and an expanding oil and gas industry. Segregation of Negroes from the White population was the rule in schools, colleges, and public facilities. Some towns had only Negro populations. As a border state, Oklahoma was part of what H. L. Mencken had in the 1920's derisively named the Bible Belt – rural areas populated, in the words of the Encyclopedia Britannica, "by fundamentalist and evangelical Protestants, among whom literal interpretation of the Bible, rigid morality, and anti-intellectualism were rampant." Perhaps the story in the family that both Oscar and Ora were sometime itinerant preachers is true.
By the 1930's Guthrie – born overnight in 1889 as the territorial capital and the seat of State government until 1910 – was a small town of perhaps ten thousand people. It was now a regional service center for agriculture and the oil industry. It had a fine Carnegie library with limestone pillars and golden oak paneling inside. It had the largest municipal athletic field and stadium in the state. And, at the southern border of the town at the entrance to the Mineral Wells Park was the rectangular Shakespeare Garden, a gift to the town from the Guthrie Shakespeare Club, which included a reproduction of Roubiliac's bust of Shakespeare.
I remember Grandpa Arnold only from a visit to Guthrie in the early l940's, and he was bedridden and uncommunicative. My sister, Joyce, remembers that visit, and says she especially remembers "the great-aunts Minnie and Mollie as they fought against taking care of Oscar (they were really nuts). Oscar retired from the railroad – that is how he visited us in Kansas [later] as he had a free pass on the train.. I also remember Mother cleaning up after he left. Oh, well, he wasn't exactly the grandfather of the movies."
`In contrast to this depiction of Oscar, my recollection of Ora, my Grandmother (she refused to be called "grandma") is of a vigorous, tidy, and hard-working person, and generally of a kind and cheerful disposition. My sister, Joyce, remembers her as proudly independent and formidable.
Ora divorced Oscar sometime after 1930, and turned to the operation of a boarding house in Newton, Kansas as a means of making a living. Some uncertain number of years later, she married Ralph W. Smith and moved to Cincinnati, Ohio, where they had a large comfortable brick home, and again Ora took in boarders. The date and place of her death is not known.

Sources

Arnold, Kenneth D. ken1014@scnet.com> 2000

Goode, Cecil E. and Gardner, Woodford L., Barren County Heritage, Glasgow, Kentucky, 1980

Gorin, Franklin, The Times of Long Ago: Barren County, Kentucky, (newspaper clippings, 1876), John P. Morton Company, Louisville, Kentucky, 1929

Munson, Joyce (Arnold) joycem@alaska.net 2000

The New Encyclopedia Britannica, Chicago, 1988

Polk's Guthrie, Oklahoma, City Directory, 1930, R. L. Polk and Company, Kansas City Missouri

Smith, Ora Carter (Arnold), interview, 1959

U. S. Census, Barren County, Kentucky, 1910, 1920

Writers Program of the Works Progress Administration, Oklahoma: A Guide to the Sooner State, University of Oklahoma, Norman, 1941


Delbert and Ada Arnold and their family


Bob Arnold's parents

In 1938 my parents, Delbert and Ada Arnold were living in Newton, Kansas, with their four children, Kenneth (at far right), and Joyce, Bob, and Keith (in front).

About ten years earlier Delbert Rudolph had married Ada Amelia Danielson, probably in Manti, Utah. Delbert was in Utah as an enlisted man in the U.S. Army, and had been stationed at Camp Douglas, a fort that had been established in 1862 near Salt Lake City to prevent Indian hostilities, to protect the Overland Mail, and interestingly, in the words of one writer, "to keep an eye on the Mormons."

Delbert had been born on January 24, 1906 in Cave City, Barren County, Kentucky, to Oscar and Ora Arnold, a farm family. Ada had been born on February 21, 1906 in Manti, Sanpete County, Utah, just a decade after Utah was admitted as a state, to Bengt and Anna Danielson, Mormon immigrants from Sweden.

Ada's marriage to Delbert was her second. In 1926 she had married Spencer Victor (Vic) Anderson, and they had a son, Kenneth D. Anderson. According to Ken (who was later adopted by Delbert and became Kenneth D. Arnold), "they were divorced because Vic's family could not tolerate their son married to an older woman -- even though it was only one and one half years!" (Vic, who had been born in 1907 in Chester, Utah, died in 1994 in Willard, Utah.)

Following her marriage to Delbert – both were about twenty-four – Ada and her son accompanied him in 1930 to Guthrie, Oklahoma, where his parents were living. This small town twenty-six miles from the state's capital, Oklahoma City, had fallen from its glory days early in the century as a seat of territorial and state government and was now just a regional service center for agriculture and the oil industry..

As my brother, Ken, tells it: "Everyone lived in grandmother's house in Guthrie, because there were no jobs. We were there, but so were Reid, Jesse, and Ruby Jo – Dad's brothers and sister." The house, at 1820 E. Grant Street, was home to at least seven adults and one child, Kenneth. The household grew on December 13, 1930, when Delbert and Ada had their first child, a daughter they named Joyce (no middle name or initial).

Although the City Directory for Guthrie for 1930 identifies Delbert as an unemployed radio repairman, I have a note saying that he was employed at some time during this period as an egg candler at eighteen dollars a week.

Like the rest of the nation, Oklahoma was experiencing what has come to be known as the Great Depression – banks were failing, businesses were closing, farms were being foreclosed, and jobs were ever fewer and at ever lower salaries. A farm in Oklahoma worth $12,000, according to historian Angie Debo, would hardly sell for enough to clear a $3,000 mortgage. Bank depositors might receive only half of their savings or checking accounts, and as the banks closed, people kept what little money they had at home.

Even though prices for food were low – hamburger at ten cents a pound, navy beans at four cents a pound, or canned vegetables at eight cents a can – joblessness meant no income, unless the town's leaders had organized a what was called a "relief" program, and a family was given an allotment (which might be as little as fifty dollars for the whole winter). The relief committee was selective, Debo reports. In one town, for instance, the committee said none of its money should go to "niggers," no matter what their condition; Oklahoma was very much a southern state.

In this time of severe economic stress and overcrowding, the Arnold household in Guthrie was again enlarged, this time by my birth on June 11, 1932. I was given the name Robert D. – including a middle initial because Mother said males needed at least a middle initial. I was born at the Grant Street house, my mother assisted by a midwife. My birth certificate says that Dad was employed as a "newspaper worker."

It was in the fall of 1932 that the small Federal program of make-work jobs authorized by the Hoover administration was begun in Oklahoma counties, according to Debo, and another full year before the expanded work programs of Franklin Roosevelt's New Deal aimed at lifting the nation out of the Depression had any impact. In this time before unemployment compensation or Social Security or other elements of what has now become known as a "safety net," these first governmental programs paid men to cut weeds, shovel soil around culverts, or carry out other labor to put money in their pockets. Before long, however, the federal programs extended not only to construction of important public works such as post offices and hydroelectric dams, but also to the writing of regional guides to each of the states, painting of murals in public buildings, and creation and performance of theatrical productions.

In his e-mail to me (here in the year 2000), Kenneth says, "We must have moved out of Guthrie soon after you were born because I went to the first grade in either Ponca City or Enid, Oklahoma." By this time, Dad had begun working in the circulation departments of newspapers, perhaps the Wichita Beacon, even before our family's September, 1933, move to Newton, Kansas.

Newton was a town with a population of about 11,000 persons twenty-five miles from Wichita, the large city where the newspaper was published. Newton's economy was built upon its role as a trading center for the surrounding wheat growing country and upon the Atchison, Topeka, and Santa Fe Railway, which employed about one thousand persons. The tracks ran down Main Street, and as many as twenty-five passenger trains –"including sleek streamliners" stopped at the Main Street depot each day. The town had a public swimming pool and tennis courts, an 18-hole golf course (with a greens fee of fifty cents), three "motion picture houses," nine hotels, and three "tourist camps." Its important annual festival was Labor Day.

In Newton, Dad was the circulation manager for the Wichita Beacon. His responsibility was to ensure that carriers were hired to deliver and sell the newspaper (Kenneth was often one of these), that payments were collected from subscribers, and that new subscribers were signed up. Though not an employee, Mother assisted Dad by collecting payments from subscribers – "tedious and a lot of walking," Ken remembers.

Within a year of the move to Newton, a fourth child, Keith J. (initial only) was born to our family on May 2, 1934.

Joyce recalls that Grandmother Arnold divorced Oscar and moved from Oklahoma to Newton with us. We lived at a number of different houses (including 500 East Second and 115 South Kansas), perhaps, she recalls, because we would fall behind in our rent payments. When Grandmother found a two-story house suitable to operate as a boarding house, she moved out, taking her furniture with her, leaving our house rather bare. Joyce says, however, that Dad's salary reached about fifty dollars a week during these years, and he bought a new car.

At one of our houses, Joyce remembers, we were able to climb with Kenneth (the only solid sports fan in the family) to the roof to watch baseball games being played in the city stadium.

In the summer of 1940, according to Kenneth's school records, our family moved to Wichita, following Dad's promotion to supervisor of district managers for the Beacon in small towns and rural areas of the state. In this position he was away from home much of each week.

Wichita, located at the confluence of the Big and Little Arkansas rivers, had its beginnings after the Civil War as a "cow town," a stopping place for cowboys herding their cattle along the Chisholm Trail. Although cattle were to remain important in the city's economy – there were major slaughterhouses at the north end of town-- by the 1890s what was most important was the city's role as a trade and grain milling center. Over the next fifty years the city continued to grow with the establishment of aircraft factories and the discovery of oil and the construction of refineries. By 1940, Wichita had a population of over 100,000 persons.

The city had an airport and was served by three railroad lines at two depots. It had nineteen hotels and bus service (costing seven cents) serving all parts of the city. There were six golf courses (all charging a greens fee of a quarter), two radio stations, thirteen "motion picture houses," a venue for concerts, expositions, political rallies, and road shows called the Forum, and adjoining it, the Arcadia Theater. There were very fine, attractive residences in the Riverside neighborhood, located on the peninsula formed by the rivers, and palatial homes, largely based upon oil wealth, in a section called Eastborough.

Our first house in Wichita, at 1345 South Waco, was fairly spacious. It had a very big porch and shade trees – both of which were desirable in the scorching summer heat of Kansas. The house was only a few blocks from the Arkansas River where, despite warnings about "undertow," we often went swimming. We also put up a rope swing that would convey us out from the bank to the deeper waters.

Following a dispute with the Beacon's owners – over cash receipts Joyce thinks – Dad was fired from the newspaper. Some furniture had to be sold to and Mother went to a salaried job as a night cook, working six days a week. We had to move to a much smaller house at 1111 East Orme, a house not even equipped with a hot water tank.

After the United States entered World War II at the end of 1941, Dad tried to join the Air Force, but he was rejected because he was more than 35 years old, the cutoff age for new enlistees. It was during the war years that Mother again went to work for pay; becoming a sales clerk for a downtown store, W. T. Grant, one of a national chain of fabric, clothing, and sundries stores. It was a job that she seemed to enjoy, especially when she was head of the baby clothes department.

Sometime during this period, Dad rejoined the Beacon, this time as City Circulation Manager, a position in which he oversaw the performance of dozens of district managers who, in turn, were supervising boys who delivered the newspapers. Among those boys were Kenneth (who was often recruited to deliver routes when their regular carriers failed to show up) and myself (beginning in the fourth grade), with Keith as my helper. The newspaper's price was fifteen cents a week, and as I recall, we carriers got to keep half of that. Although I had additional summer jobs, I delivered newspapers on regular routes for seven years.

It may have been Dad's new job that allowed us to move to a larger house at 1115 East Orme, right next door to the small one. It had hot water, but the pipes often froze in the winter. It was at this house that I eagerly drank a glass of water one morning from a pitcher that had stood on the countertop overnight, only then to discover that a dead mouse was floating in the pitcher!

Dad's speech was largely unaffected by his southern upbringing. He had no southern accent, but his pronunciation of a few words was like that of southerners – "bidness" for "business," "thow" for "throw," and "hep" for "help." We probably learned to call a washcloth a "warshrag" from him, and to say "play like," instead of "pretend," and "not about to" to make plain we weren't going to do something. And our midday meal was "dinner" and our evening meal was "supper."

The three of us who were closest in age – Joyce, Keith, and myself -- occasionally developed shows, under Joyce's direction, which we presented to other kids in the neighborhood. The one that I remember best was a performance of the song, "Chattanooga Choo-choo," (whose lyrics I remember to this day). We listened to radio programs, such as "The Lone Ranger," "Let's Pretend," and "Suspense." Every Saturday we would walk several miles to the downtown area to attend a movie, usually a western, at the New Theatre (re-named "The Victory" after 1945). The movie, which cost twelve cents, always included a serial – so important to us that we asked Mother to attend the Saturday matinee while Keith and I took the bus to Cincinnati to visit Grandmother (who had remarried, becoming Mrs. Ralph Smith) so that we wouldn't miss any parts of the continuing story! (I was nine and Keith was seven when we took that long, overnight bus trip.) We always took comic books with us to trade two-for-one at a store near the theater, and next door to the theater, bought soft ice cream cones for a nickel.

Owing to our change of residences, I attended two elementary schools in Wichita. I was a very good learner – a standout in spelling! – and enjoyed going to school. Owing to informal residential segregation, I didn't attend school with Negroes (as they were then called) until I went to high school, and even there, despite a sizable Negro population in the city, there were very few.

I was never spanked at school or at home. The only discipline Mother administered if we misbehaved was to require Keith and me to sit quietly on chairs spaced well apart and to threaten to tell Dad if we didn't behave. I don't remember that she ever followed through on that threat!

Although I had classmates at school whose clothes and appearance made plain that they were from poor families, I don't remember ever thinking we were poor, even though our family income was low. I was, in the words of a once-current expression, "happy go lucky," and for good or ill, I still am.

"Bible School" was a weekly event at most elementary schools, including mine. Our whole class would march a few blocks to a nearby church for an hour or two of Christian teachings.

Despite her Mormon upbringing, Mother was never a churchgoer, nor was Dad, and religion was not ever a topic of discussion. She sent Keith and me a few times to the local Mormon church, the Reorganized Church of the Latter Day Saints, but had no objection when we quit attending after only a few Sundays. Political matters were not ever a subject of discussion in our family either, so I am unable to say whether they supported Franklin D. Roosevelt – the only president we had during my first thirteen years – or, later, any of the candidates for any political office.

We didn't own our first house until 1943, when we moved to an old but nice brick house at 131 North Minneapolis, close to the main thoroughfare of Douglas Avenue. It had two large glass-paned doors separating the living room from the dining room! Although we had our first telephone at this house, we still had a wooden icebox and relied upon weekly delivery of a big block of ice. And our coal furnace required regular delivery of coal, dumped through a chute in a basement window. It was here that we first had a record player – purchased by Joyce from her earnings working at a soda fountain in a drug store. (In another peculiarity of memory, I remember the song, "The Old Lamplighter" that was on the 45 rpm record that she bought with the player.)

Being a newspaper carrier, I read the newspaper every day, and I think such reading was an important contributor to my general education. Other contributors were comic books (!) and Compton's Encyclopedia, which Mother bought when I was in the fifth grade because I wanted it very much. We had very few books and magazines in the house, but I remember reading the Readers' Digest regularly. (I didn't know then that it was so relentlessly right-wing. How curious it is that I became almost relentlessly left-wing!)

Although sugar, coffee, gasoline and other goods were rationed during the war -- requiring government-issued stamps to purchase the goods in limited quantities -- I don't remember any sense of hardship. As a Boy Scout I participated in what was called "the war effort" by joining with other members of the troop to collect flattened cans and bundles of newspapers to be processed for re-use. It was a city-wide program in which families placed their cans and newspapers at curbside, and we rode in a wooden trailer pulled by the Scoutmaster's car, jumping in and out of the trailer to make the collection.

The Boy Scout organization was founded to provide nature experiences, to encourage personal growth and accomplishment, and to build character among boys who were twelve years and older. Character building was encouraged by our recitation of the scout law at each meeting in which we pledged to be "trustworthy, loyal, helpful, friendly, courteous, kind, obedient, cheerful, thrifty, brave, clean, and reverent." All of the foregoing I tell here because I think recitation of the attributes contributed to the shaping of my character. Of greater importance, however, was my belief in the soundness of the ancient precept of doing to others as we would have them do to us.

Scout merit badges were awarded on the basis of successful completion of prescribed activities, and I may have earned a dozen or more. My best experiences in the scouts were twelve-mile hikes, camping trips, and playing "kick the can" just before each meeting. My greatest sense of accomplishment was my long-sought success in swimming 50 yards in a lake, the last hurdle to my becoming a Star Scout. My only bad experience was the night the scoutmaster herded the troop upstairs in the church where we met to participate in a "Christian revival." I resented some grown-up urging me to step forward and "confess my sins" when I had none to confess. Although I liked scouting, I left the troop when I entered high school.

In late 1944, Kenneth joined the Marine Corps. After completing basic training, he was sent to the island of Saipan in the south Pacific, a site of bloody battles during the preceding year. He did not see combat, however, because, following the destruction of two Japanese cities, Hiroshima and Nagasaki, by the first use of atomic bombs, Japan surrendered on August 5, 1945. His unit was sent to Japan as part of the military occupation of the defeated country. Though he later served at various locations on the island of Kyushu, his first assignment was in Nagasaki, where many thousands of civilians had been killed or injured by the enormous explosive force, fire, and radiation from the second use of the atomic bomb. Upon his discharge in August, 1946, he returned to Kansas where he married Alice Randles and attended Kansas State University, studying engineering.

While in high school my jobs included that of stockroom boy at a downtown variety store – a job that I considered a major step up from that of being a newspaper carrier. During summers, I found full-time jobs, such as scraping paint from windows and bathtubs of newly constructed houses (at thirty-five cents an hour), and cutting grass sod and loading it on trucks. It was the latter job – very hot and dirty – that led me to drive my Model A Ford convertible (it was eighteen years old and I was sixteen) to Fort Collins, Colorado. There I first worked in the orchards picking cherries, and later worked the night shift at the cherry cannery, unloading cans from boxcars and washing the cans. (I left Fort Collins hurriedly after several of us were taken to the police station for fighting in the city park. The fight was over nothing, and I had been inadvertently drawn in.)

The car I drove to Fort Collins was my second one. The first was a 1937 Chevrolet sedan that my Dad and I repaired and re-upholstered to make it operable and presentable, but also as a means of teaching me about cars. This ten-year old car was among the first to be factory-equipped with a radio, which led my Dad to caution me against listening to the radio while I was driving!

While a 16-year-old sophomore in high school I joined the Naval Air Reserve (with an altered birth certificate) at the urging of a friend. As best I can recall, I was attracted to the idea of wearing a sailor suit (twice a month while on duty at the virtually closed Hutchinson Naval Air Base), of being able to ride in an airplane, and of spending two weeks on active duty in an aircraft carrier in the summer. I did get my first ride in an airplane, an SNJ two-seater fighter trainer, and it was one to remember. After we reached a high altitude, the pilot tossed a roll of toilet paper out of the cockpit, and as it unfurled, we pursued the trailing paper in a dizzying downward spiral. When we landed I could hardly stand or walk; terribly unpleasant for me, but a matter of merriment for others.

Between my junior and senior year I served a week of active duty on an aircraft carrier in the Gulf of Mexico. Although I was only 17, I was made a "plane captain," after being taught how to conduct a check of operating systems in the TBM – a single engine, folded wing, torpedo bomber – before handing the aircraft off to the pilot. I had to remain with the plane on the flight deck while dozens of them were roaring their engines, their propellers spinning, so that I could remove the wooden chocks which held the airplane's wheels in place. Once I removed the chocks, I then had to race with the chocks to a place of safety. It was, I thought, a rather harrowing experience.

My duties as a plane captain came to an end this way: After completing my pre-flight inspection of the airplane one day, I jumped out of the cockpit and my arm traveled along the sharpened edge of the folded wing. The edge cut my arm to the bone below the elbow and I was rushed to a naval hospital where the arm was sewn up and I completed the second week of my two-week "cruise."

My experiences on the flight deck, the tight sleeping spaces below deck, the lack of privacy, and "standing watch" from midnight to 4:00 a.m. sharply diminished my interest in the Naval Reserve. I had worn the sailor suit, flown in an airplane, and gone on a naval cruise. After only one year into my enlistment, I was ready to put all of it aside and go on to other diversions.

Dad left the Beacon in about 1948 to found a truck body manufacturing business (where I was briefly employed as a general helper), but he sold it and returned to the newspaper business – this time as country circulation manager for the rival newspaper, the Wichita Eagle. He stayed in that position until he retired in about 1955. He and Mother had been divorced in the early 1950's, and by 1956 he was married to Geraldine ___________. Moving with her to Springfield, Missouri, he joined his brother, Reid, in establishing and operating a fishing resort on Table Rock Lake near Reed Springs. They named the 25-acre property "Arnold's Lucky 13 Resort." After Dad sold his share to his brother, he took a position as a supervisor of insurance salesmen who worked in rural areas as far east as the Amish country of Pennsylvania.

Meanwhile Joyce had married Ray Williams and given birth to a son, Steven Craig, and a daughter Kathryn. In 1952, having divorced Williams, Joyce purchased a diminutive car (a 1948 Nash Rambler), and with her two children, Ken and his wife, Alice, and their three children drove the several thousand miles from Wichita to Anchorage, Alaska. For the trip they had only $260 among them. "Going to Alaska," she explained many years later, was "simply begun as a lark." Ken soon found work as a surveyor on road construction projects, but returned to Kansas once the building season drew to a close.

Joyce found work as a secretary to an Anchorage attorney, and in 1953 married Joe (Bill) Munson, a carpenter and builder who was co-owner of The Yucca Club, a tavern and restaurant located at Mile 5, Seward Highway. Two years later, Joyce determined that she would operate the restaurant. She recalls today that, "I insisted that I could run the restaurant and do it all myself – cook, wait tables, and so forth. I hated it, so we took the restaurant out."

Joyce and Bill soon began construction of their house on the large acreage up the hill from the tavern. By 1954, their family had grown with the birth of a daughter, Jane, and in 1956, a son, Robert. Subsequently, Joyce and her family built a small house on the Kenai Peninsula near Soldotna, as one obligation in "proving up" on land obtained under the Homestead Act. After meeting their obligations to obtain the land, the family returned to their Anchorage home.

Back in Wichita, I graduated from East High School (with a very good, though undistinguished record), and, having no savings for college, took a job as a display advertising salesman for the Wichita Beacon. It was June of 1950, the year that the United States entered into what was initially called a "police action" to repel North Korean invaders from South Korea. Even though I was still a member of the Naval Reserve, I did not have any idea that those distant events would directly affect me. In January of 1951, however, I was surprised and very much dismayed to be ordered that month to active duty. Given my promotion from Airman Recruit to Airman Apprentice, I was spared being sent to boot camp – basic training for new sailors. Since I could type (having learned it in the seventh grade), I was assigned to work in the personnel office. Never again was I a plane captain.

Unlike those draftees who were sent to Korea and who risked their lives or died there, I spent most of my 21 months of active duty at the Alameda (California) Naval Air Station. Being in the Navy was, for me, like having a job, except for the military trappings – saluting officers, for instance. Given my inexpert swimming skills, the drill that I dreaded most and liked least was jumping from a high tower into deep water and treading water to stay afloat for fifteen minutes. To supplement my income ($70 a month, as I recall), I went to my off-base locker about three nights a week, changed into what we called "civvies," and went to work as the operator of a 26-dice game in two different Oakland bars. Other nights I took a course in the Russian language at the University of California at Berkeley.

While in the Navy I spent four days at sea, again on an aircraft carrier, this time on the Pacific Ocean. On the first morning as I stood on the flight deck watching our ship being refueled by an oiler, we collided with it. As ammunition exploded and bells clanged, we began turning so sharply that we were listing severely. I was certain that our enormous ship was going to turn over on its side. It didn't, however, and we sailed back to San Diego. Some have observed that persons in the army are likely to have experienced more sea duty than I did as a sailor.

Upon my separation from the Navy in December, 1951, I returned to Kansas and, thanks to the G.I. bill, was enabled to enroll at the University of Wichita. Various tests I had taken in the Navy gave me credits in history, math, and English, so I was not required to take freshman courses in those subjects. At nineteen I was not only a veteran, but almost a college sophomore! I think I was drawn to political science and history by the content of courses in political philosophy and by the outstanding quality of the faculty in those fields. With my G.I. bill benefits of $110 monthly, I worked only part-time during the school year – painting campus rooms, delivering mail on campus, and, later as a senior, grading student papers, and once in a while, lecturing in undergraduate courses.

Following Keith's graduation in 1952, he attended the University of Wichita and began working as a photographer for the Wichita Beacon. Leaving Wichita, he enrolled at the University of Denver and became a writer/photographer for the university's public relations department. He then moved to Alaska, where he worked briefly for the Anchorage Daily News before moving to Joyce's homestead cabin on the Kenai Peninsula and becoming editor of the weekly newspaper, The Cheechako News.

In the summer of 1953, friends and I purchased two "aqua-lungs," read a book by Jacques Cousteau on their use, and, after trying the breathing apparatus underwater in the bathtub, began a brief adventure in diving. My first descent into a lake – tumbling out of a rowboat with weights around my waist into the darkness and the muddy bottom of the lake – so terrified me that after I struggled to the surface, I swam to the shore with my head and equipment above the surface. It was very hard going. (We later developed some skill in the use of the equipment in water-filled quarries.)

Kenneth divorced his wife in 1953, and in 1955, married Wanda Lee (Leatherbury) Teichgraber, who had a daughter from her first marriage, Ricella (Kelly). Ken adopted Lee's daughter, and their family grew with the birth of Teresa Ann (T.A.) in June, 1956, Eric in October, 1958, and Kurt in July, 1961.

Is my 1953 camping trip/drive to New York with a friend worth reporting? Perhaps it is for its illustration of the fearlessness of youth, not in camping but in a first visit to New York City. After much searching for a place to stay, we found a squat, old hotel in a declining commercial neighborhood and paid for a third-floor walk-up for the night. It was so hot I spent most of the night on the fire escape where all night I heard police sirens and saw (and sort of worried about) drunks and other noisy people on the street below. It was on this same trip that my friend and I found a grassy area in the Washington, D. C. area late at night and threw our sleeping bags down near the water. When we were awakened by heavy traffic the next morning we discovered that our campsite was opposite the Pentagon!

As the summer of 1954 was drawing to a close, and my job of painting houses and buildings had ended, a friend and I decided to drive to Alaska – a destination of much appeal to the youthful AND a place that promised free temporary lodging, my sister's house. With less preparation than I would now make for a highway trip of a few hundred miles, we set out to drive and camp out the several thousand miles to Anchorage. The forested and mountainous beauty of northern Canada and the exhilaration of being in a vast and wonderful wilderness were all that we hoped for. What stands out prominently in my memory also, however, are the dozen flat tires that we had to change amidst swarms of mosquitoes, especially in the Yukon Territory.

One episode in this visit to Alaska deserves memorializing. Joyce told me she would fry some chicken for dinner if I would kill the one of the chickens in her back yard. Not wanting to cut its head off with an ax, I fired a pistol repeatedly at the chicken, but failed to hit it. We did have a chicken dinner that night, but I can't remember whether I finally cut the head off or whether Joyce did!

After earning enough money by working nights remodeling a grocery store (and enjoying the hospitality of Joyce and her family), we needed to return to our studies in Wichita. The very long drive back was uneventful except for the night my friend fell asleep at the wheel in British Columbia and jolted me awake by turning the car on its side in a deep ditch. Since my friend broke a couple of ribs, and I was unhurt, it fell to me to get help. Although we believed we were in the middle of nowhere – an expression I really like – there was a small settlement that I walked to a few miles away to find assistance. It was a beautiful fall morning and I sang ("I am a Happy Wanderer") all the way. Once the car was towed out of the ditch, we resumed our travel in a now badly dented vehicle.

In early 1955 Mother moved to Alaska to be near her daughter, and soon found employment as a sales clerk for the Northern Commercial Department Store, a fine clothing store in Anchorage. Through Joyce's husband she met Swen Shuldberg, a carpenter who was a Swede, and in 1956, married him.

It may have been the Spring of 1955 at a college festival that I met a new girl, a friend of a girlfriend, but we weren't to become further acquainted until later. I did buy a sailboat, however – a 13-foot Moth Class. Impatient to try it out despite an ever darkening sky, I borrowed a farm trailer and with a friend took the boat to Santa Fe Lake. I had never sailed before, but I had read a book from the library that explained it all. As we approached the middle of the lake, the sun went down and the wind began whipping the sails and the rain came pelting down. Somehow we steered it through the choppy waters toward shore, and as we approached the shore, we both jumped. When the boat hit the rocks, it tore several holes in the hull. I spent most of the remainder of the summer learning how to use fiberglass and resin to repair the holes in the boat. As Fall approached, I found myself spending some time with the girl I met at the Hippodrome, Ann McEwen. She was first alerted to my sailboat misadventure by the 18-foot mast that, for some reason not now known to me, I always carried atop my 1948 Studebaker.

Back in Alaska, Joyce had become an elementary school secretary and was becoming increasingly engaged in civic activities, such as Anchorage Little Theatre. She was the prime mover in reviving the Anchorage Unitarian Fellowship, having become (like me) a Unitarian. Later she was the executive director of the Alaska Mental Health Association, an elected member of the Alaska House of Representatives, and director of Alaska's Pioneer Homes. She retired from the latter position in 1987, returned to Anchorage from Juneau, and expanded her pottery studio and offered classes in ceramics.

In 1961, Keith moved to Juneau, where he became public information officer for the State's Department of Highways. While in that position, in 1963 he met and married Roberta (Messerschmidt) Zinck, the mother of five boys – Gary, Eric, Brian, Dean, and Kirk – ranging in age from 4 to 11. Following the 1964 earthquake, Keith traveled to stricken communities for the Office of the Governor as part of an assessment team. With his new family he moved back to Anchorage, and as an administrator at the Alaska State Housing Authority, continued to work on problems associated with the earthquake. He was then executive director of the organization sponsoring the Fur Rendezvous for a year, and then moved on to other writing and administrative positions. In 1970, he joined the Alaska Oil and Gas Association as assistant director, and he remained in that position until his untimely death from cancer in May of 1980.

In 1967, after sixteen years of engineering employment at Boeing in Wichita, Ken transferred to the Seattle facility of the commercial and military aircraft manufacturer. His happy marriage of almost thirty years ended in October, 1984, with the cancer death of his wife, Lee. She was buried in Piedmont Cemetery, Piedmont, Kansas. Late the following year, Ken married Carol Barnett, and in 1988, retired after a 35-year career with Boeing.

In 1966 Mother's husband, Swen Shuldberg, died. Following his death and her retirement from Northern Commercial, Mother lived with Joyce's family until she applied for and was accepted at the Anchorage Pioneers Home, a residential living facility. She remained there until her death on May 31, 1992. Dad had died in 1972 from a heart attack while he was on the road for the insurance company. His funeral was held in Springfield, Missouri.

In 1983, Keith's widow, Roberta, married George Patrick (Pat) Spartz, a long-time teacher at Anchorage Community College. Both are now retired and living in Anchorage.

In this year 2000, Ken and his wife, Carol, are splitting their time between their house in Bremerton, Washington, and their cabin on Lake Cushman, near Hoodsport. Joyce continues to live in the house she and her late husband built in Anchorage, and owns and operates a ceramic studio in a separate building on the property.

As for me, that is the next story.

Sources

Arnold, Kenneth D. ken1014@scnet.com 2000

Debo, Angie, Prairie City, A. A. Knopf

Frazer, Robert W., Forts of the West, University of Oklahoma Press, Norman, 1965

Munson, Joyce (Arnold) joycem@alaska.net 2000

Polk's Guthrie (Oklahoma) City Directory, 1930, R. L. Polk & Company, Kansas City Missouri

Spartz, Roberta (spartz@alaska.net), 2000

U. S. Census, Barren County, Kentucky, 1910, 1920

Writers Program of the Works Progress Administration, Oklahoma: A Guide to the Sooner State, University of Oklahoma, Norman, 1941

Robert and Orie Crosby and their families
Ann Arnold and Martha Kimball's maternal grandparents
In 1903 Robert Newton Crosby, 25, married Orie Carr Tandy, 24, in St. Louis, Missouri. Crosby was a salesman, though what kind of sales he was engaged in is not known.
Crosby had been born in Moscow or Leicester, New York in March, 1878 to Newton Hiram Crosby and his wife, the former Helen Goddard Wheelock (b. 1855). Beyond his Crosby grandparents, no earlier Crosby ancestors have been located. On his mother's side, however, his ancestry has been traced to Ralph Wheelock, a dissenting preacher, who emigrated from Shropshire, England, to Medfield, Massachusetts in 1637.
Unlike Crosby's Wheelock ancestors, who for eight generations were in Massachusetts and elsewhere in New England, his wife's forebears were from Virginia, Kentucky, and Illinois.
Orie's father, Robert Castleman Tandy, had been born near Lexington, Kentucky, the Carrs were from Illinois, and the Cabells and Harrisons were from Goochland and Fayette counties, Virginia. (The first of the Cabells, Dr. William Cabell, had emigrated from Warminster, England, in 1726, but his family may be traceable to Robert Cabalus (like the Latin term "caballus" for horse), a participant in the Norman conquest of England.)
It was Orie's maternal grandparents who were the earliest to arrive in the vicinity of St. Louis, some arriving even before the Louisiana Purchase and the celebrated departure of Lewis and Clark from St. Louis for their journey of exploration. Her great grandfather, Leonard Carr, of German descent, traveled in 1797 by horseback from Hardy county, Virginia to the New Design Settlement in Monroe county, Illinois, across the Mississippi River from St. Louis. New Design was one of the area's first settlements and the site of the first English-speaking school and the first Protestant church in Illinois. He raised cattle on 100 acres of land he acquired in 1814. Her maternal grandmother, formerly Miss Wiggins, was reportedly of the family that operated "the famed Wiggins ferry" that operated between East St. Louis, Illinois and St. Louis.
St. Louis had been founded in 1762 as the headquarters of a fur trading company from New Orleans and had been designated by the French (who then controlled what was known as Upper Louisiana) as its capital. The tribes of Osages, Sauk and Fox, Kickapoo, Shawnee, and other Indians were little affected under French or the brief Spanish rule, but following the purchase by the United States, the tribes were moved out of Missouri west and south to territories that would become Kansas and Oklahoma. There were no tribes remaining after the 1830's.
St. Louis's location at the convergence of the Missouri and Mississippi rivers ensured its future growth for trade and later manufactures of all kinds. As the fur trade declined in importance, the role of the city was increasing as an outfitting center for those Americans moving west to the new territories. Water transportation remained important even as railroads reached Missouri and St. Louis became their hub. During the Civil War (in which Missouri remained in the Union) purchases of manufactured goods by the federal government led to an enormous expansion of the city's manufacturing base. By the time the Crosbys were married, the population had grown to nearly six hundred thousand, and the prosperous city could boast of many civic improvements.
While little is known about the Crosbys' lives, it is likely that they attended the Louisiana Purchase Exposition of 1904, a world's fair commemorating the purchase and the growth of St. Louis. Sixty-two foreign nations and virtually all states and territories were exhibitors at the event. There were reproductions of the "sacred shrines of Jerusalem" and of "native villages of many savage tribes." Writers of the Works Project Administration guidebook to Missouri said of the Exposition that all America moved to the tune of "Meet me in St. Louie, Louie, meet me at the Fair." They also said that, if legend is correct, it was at the Fair that a waffle vendor packed ice cream in a waffle, beginning the American institution of the ice cream cone.
Robert and Orie had two daughters and one son. Their first daughter, Helen Wheelock Crosby, who was to become John McEwen's wife and Ann's mother, was born December 30, 1906 in Kirkwood, Missouri. The second daughter was Orie Carr Crosby, born October 29, 1908. Their only son, Austin Wheelock Crosby was born March 10, 1921.
Orie Carr Crosby was married to Charles Malcolm Hamilton, an officer in the army.
Robert Crosby did not find sales work that he liked, and he was often unemployed. As a result, Helen became a source of support for the family by working in a bookstore. Although the Tandy family was reportedly wealthy, it was Helen's uncle who was the heir, and he reportedly squandered what he had inherited.
Orie Carr Tandy Crosby – known as "Tante" in the family -- died at the age of 52 in 1931. Robert Newton Crosby died in _____. Both are buried in the Tandy plot in the Bellefontaine Cemetery in St. Louis.
During World War II, Austin Wheelock Crosby joined the Navy. He lost his life while serving in the Aleutian Islands of Alaska. He is buried in the Bellefontaine Cemetery.
Sources

American Historical Society, Inc.,American Families – Genealogical and Heraldic, n.d.

Brockman, Ellis R. ellis.r.brockman@umich.edu 2000

Brown, Alexander, The Cabells and Their Kin, Garrett and Massie, Inc., Richmond, VA, 1939

Gibson, Catherine Castleman, notes and letters, 1970s

Writers Program of the Works Progress Administration, Missouri: A Guide to the "Show Me" State, Missouri Highway Department, 1941

Wygant, Martha W., records of the Wheelock family copied by H.C.B. in 1916

William and Bertie McEwen and their famiies


Ann Arnold and Martha Kimball's paternal grandparents

Less than a decade after the close of the Civil War, William Lawrence McEwen was born in Ottumwa, Wapello county, Iowa on February 7, 1874. His parents were John Francis McEwen (born 1846 in Decatur county, Indiana) and Maria Caroline Venator McEwen (born 1848). They were both about nineteen years old when they married on December 28, 1865 at the family residence in Wapello county. William was one of seven children.

It was William's great grandparents, James B. and Catherine Chambers McEwen, who moved the family to Iowa from Decatur county, Indiana. James (born 1785) founded the Missionary Baptist Church in Fremont in Mahaska county.

Like his wife, James had been born in North Carolina. He was a second generation American; his grandfather, also named James, had married Isabella Miller in Aberdeen or Edinburgh, Scotland in about 1740 before their emigration to the United States. Isabella was the daughter of Lady Margaret McNaughton.

William's paternal grandparents were Mary Ferguson (1829-1857?) and Francis Johnson McEwen ((1823-1893). His maternal grandparents were Ann Maxwell (1818-1870) and Benjamin Venator (1810-1892)

In 1874 John Francis McEwen moved his family, including four-month old William, to Cowley county, Kansas, where he became minister of the Baptist Church at the small community of Rock. For Kansas it was a year of severe drought, with resultant corn crop failures, a major invasion of grasshoppers, and even -- possibly in response to the destruction of buffalo herds -- Indian raids upon white settlements.

Kansas had been home to only a small Indian population until the 1830's when large numbers of tribes were moved from eastern states to Indian Territory – lands west of the state of Missouri, lands thought worthless for agriculture. By 1846 the Congress had established seventeen enormous reservations. But beginning in the 1850's, there was increasing interest among whites in settlement of the area and among land speculators in the possibility of profits. Accordingly, treaties were re-negotiated (though the first ones had been said to be in perpetuity),

white settlers, speculators, and railroad promoters moved in, and most Indians were removed south of the Kansas border to what was to become Oklahoma.

Although the McEwen family's move was taking place more than a dozen years after these events, they may have been affected by one of the provisions of the new Osage treaty. The Osage Indian reservation included Cowley county, and the new treaty provided that lands open to settlement were not to be available under the Homestead Act of 1862, but would have to be purchased. If they purchased their land in 1874, however, they may have been able to buy it for less than the prevailing $1.25 an acre because of the depression.

Another family living in the area was the Sellers family – David Sellers and his wife Eliza Jane Bartlow Sellers, both of whom had been born in Littleton, Illinois, and David's widowed mother, Elizabeth Ritchie (Ritchey) Sellers (b. 1819). On December 16, 1878, they had their first child, Bertie Maude. She was born in Tisdale, eight miles from the county seat at Winfield. The family grew with the births of Howard Iven in 1882 and Nettie Elizabeth in 1886.

Both William and Bertie grew up on the farms owned by their families. William became a farmer who grew alfalfa, raised chickens, ducks, geese, and turkeys, and had milk cows, horses, and mules.

Twenty-three year old William and nineteen year old Bertie were married on December 29, 1897. The second of their four children was Ann's father, John David McEwen, born December 13, 1902, in New Salem, Cowley county. The others were Fern, born 1899, Lucille, born 1912, and Eloine, born 1916.

In notes written in 1973, Ann's dad recalled how he spent summers with his Grandpa Sellers, who "was a genius at making things." He especially remembered a cross-bow which he kept into his college years until his nephew wore it out. Sellers smoked "Old Hillside" tobacco and though "it smelled good outside…inside it got a little rank. Grandma was not in favor of airing out the house."

From his notes, it appears that John was a frequent visitor at his Grandpa McEwen's farm, just a few miles south of his parents' house. It was there that he saw, together with a crowd of neighbors, his first "movie," projected by a magic lantern on a bedsheet nailed to the side of the barn door. The show, "Uncle Tom's Cabin," ended with Little Eva ascending "to heaven in a kind of jerky manner and everyone was almost in tears." Three-year old John then yelled, "There goes a chicken…and that broke up the show."

John's grandparents lived in a large house that included "a lean-to wash-up room with a long zinc sink and pitcher pump." In the immediate area they had a smokehouse with a cellar underneath (for storage of barrels of cider and vinegar), a privy, and a cave where potatoes and other vegetables and apples were stored.

"I remember Grandpa," John wrote, "as being rather a small man, but solidly built, always neat and clean in denim pants with wide elastic galluses and a straw topee with cork hatband held away from the inside with thick cork washers." He continued, "I never saw him spit and I don't think he did." He had "a well-trimmed mustache, blue, crinkly eyes, and was always humming a little tune. He didn't work much; he didn't have to; there were six sons to do that."

William McEwen called his parents Ma and Pa, but he was called Papa and Bertie was called Mama (after the practice in her family) by their children. As the children grew older, they began calling their parents Mom and Dad, and Bertie even began using those names for her parents.

William liked to hunt and to play baseball. He played catcher for a team in what John called a "very minor league." John would sometimes accompany him, but observed in his notes that "I think to this day baseball bores me because I did go. I'd sit in the buggy with the horse or horses tied to the fence and just be thoroly bored." What was more fun for John was hunting, and his father, William "was a crack shot and was to the very end."

In April, 1910, Ann's grandparents moved to a farm south of Atlanta, a small settlement that had been founded along the route of the Frisco railroad. Recalling the move many years later, John wrote:
Our box wagon with the side boards on and the end-gate in had been loaded the night before. Some neighbors with their wagons had arrived and were loading farm machinery, chickens, pigs. The cows would be driven and the colts tied to their mothers, hitched to the wagon.

I rode with Dad on the spring seat fitted to the wagon. Mother and Fern were in the buggy, Mother driving. On through New Salem…At noon we stopped at Silver Creek, fed and watered the stock and had a picnic lunch…Late in the day we arrived at the new farm.. To me, a huge house…The stock was penned, the horses put in the old barn. We ate the remains of the picnic and piled into the feather beds on top of the straw ticks spread on the floor. Everyone was too tired to think of doing anything else that day.
[Doing the laundry in those days was a major undertaking, as John's notes make plain:]
The water had to be brought from the windmill at the barn. Pump that much water at the house well and it would be dry the rest of the day. The wooden tub washer was moved into the kitchen from the porch if it was winter. The copper-bottomed boiler put on the front of the stove, filled with water, the fire built up. While the water was heating, Mom would shave a bar of soap to put in the boiler when the water was hot enough.

The soap she had made in a big black iron kettle in the yard. The hog fat saved from butchering time plus E. Lewis Lye made a tannish bar when dry and sliced…

After the clothes boiled awhile, into the tub they went and I got to turn the wheel equipped with a handhold that activated the paddles in the washer. This could go on for a long time it seemed to me.
Even while a pupil in the earliest grades John had many chores to perform. After he changed his clothes, he gathered eggs, fed and watered the chickens, brought in the wood and stacked it behind the stove. When he was somewhat older, he wrote, "Papa taught me to help him milk the cows; I didn't mind doing it in the evenings, but mornings were for sleeping." When he was big enough to reach the foot levers on the haybuck or go-devil – a mowing machine --, his father introduced him to haying, an activity carried out on both his farm and his brother Tom's.
Although John's dress clothes usually were ordered from the Montgomery Ward catalog (and were often ill-fitting until altered by his mother), William took him to a clothing store in Winfield where he got his first long pants. "Dad said," he recalled, that "I looked like a bean pole with the fullness pulled clean out of the knickers where they were buckled at the knees." He explained that he "had long ago discarded the harness and drawstring blouses for tuck-in shirts, a belt, and garters mama made to hold up my long black stockings."
John's schooling had begun in Baltimore, a town that died when the railroad passed it by, and continued in Atlanta until his high school years, when he attended school at Winfield at his insistence. He spent one high school semester in Atlanta, and also missed a year of school, when he was stricken by the influenza epidemic that ravaged the country in 1918. Because he was smart, however, he graduated with his class.
As a boy, John enjoyed rising before daylight during the fur season to check his traps: "There was always the excitement of what I might have caught." It was usually a muskrat, but one time it was a skunk, which he skinned and stretched before school. Despite being scrubbed by his mother, the odor about him remained very strong, and was very much commented upon by others at school. In addition to trapping, John liked hunting squirrels and fishing for catfish in the pond. In the winter, he would skate on the pond, with a bonfire blazing on shore, until his father made him quit and come into the house.
John spent much of his boyhood on horseback, sometimes simply to ride to school or for fun, but other times to assist in the work of the farm, such as moving cattle to the feedlot for the winter. Even sixty years later he recalled in detail the appearance and characteristics of their horses.
He also recalled the telephone lines that were shared by a number of different households, that one long ring followed by one short ring signified a call for his house, and that ten short rings meant that there was a message --"such as a social at the church or the town was on fire" --for all who had telephones.
It was a telephone call in late summer 1910 from New Salem that brought news that John's grandfather McEwen had died. In its obituary, the newspaper reported that "Brother McEwen was among the oldest residents in this neighborhood, having there about thirty years, and a man that was well-beloved, should we judge by the large audience…."
In 1916 William purchased the family's first car – a Model T Ford – from the Atlanta dealer. Instead of delivering the car, however, the dealer "would wait until he had orders for four or five cars, and for a little extra, send enough men [to the assembly plant in Kansas City] to drive them home" John persuaded his father to allow him to join the crew in taking the train to Kansas City and being part of the caravan for the three day, dusty drive back to Atlanta. The car was "shiny black with a cloth top, isinglass in the side curtains, and a smell like a new buggy," he recalled. "By the time we reached home, I knew how to drive. At the end of the summer, with the top down, I could sit on the top of the front seat back and drive it with my bare feet."
That new car figured in what could have been a tragedy for John and his older sister, Fern. They took the car instead of their horses to school one day and when they were ready to return home, the whole area was experiencing a blizzard with heavy snows. They slid off the road and were unable to move the vehicle. They were very, very cold and frightened by the intensity of the storm. "My feet were numb, my fingers stiff…the wind whistled under the buttoned side curtains and snow blew up through the pedal slots." They were finally rescued by their searching father, who put both of them behind him on a work horse and took them to the nearest house to warm up.
In subsequent years, the McEwen children married, and all but one moved away from Cowley county. John David, Ann's father, is the subject of the next narrative. Fern married Archer Baum and moved to Wichita, as did Eloine who married Heber Beardmore. Lucile married George Barnes and continued to live in the area.
Their father, Ann's paternal grandfather, William McEwen, died in 1944. He had been hunting, John David wrote, and "tangled his feet in woven wire lying flat in tall grass and fell hard on his shell vest. He never recovered." Their mother, Ann's grandmother, Bertie Maude, continued living in Atlanta until her death in 1974.
In his 1973 notes, John David observed that absent the "egging on" from his daughters he would not have written of the past as he had. He said, "I recall it with fondness and know that now is a different world. We didn't have much, but we didn't know that. We, now, would be considered underprivileged. I'm not one to dwell on the past. Today's tomorrow is where it's at."
Sources

Beumer, Hal <beumer@alum.mit.edu> (census data, Iowa and Kansas)

Hollinger, Marie Sellers mari@netins.net (Sellers family)

Kimball, Martha Bartlow McEwen, recollections, 2000

McEwen, John D. (1902-1990), written reminiscences, 1973

McEwen, Michael michael@arkcityks.net (Cowley county cemeteries and obituaries)

Mesech, Cecilia cmesech@radiks.net (Venator family)

Zornow, William F., Kansas: A History of the Jayhawk State, University of Oklahoma Press, Norman, 1957

John and Helen McEwen and their family
Ann Arnold and Martha Kimball's parents
John David McEwen was no longer part of the Atlanta, Kansas, household once he journeyed to Lawrence, Kansas, to attend the University of Kansas in 1921. He majored in journalism. Family recollections are that his membership in Kappa Sigma and the friends he made in that fraternity were the most memorable of his college experiences. Upon his graduation in 1925, he went to Kansas City, where he worked for the Kansas City Star. By the time he met Helen Wheelock Crosby he was in St. Louis, where he was employed at one time as a slogan writer for the brewery, Anheuser-Busch, and later as a representative of the Anfinger Advertising Agency.
At that time, St. Louis, with a population of over 800,000, was the eighth largest city in America. The fur trade, which had given birth to the city, was still being carried on, and St. Louis was the largest raw fur market in the world. Even so, the city's economy was far more importantly based on manufacturing (stoves, shoes, woodenware, brick, and terra cotta), the grain markets, breweries, and the whole range of associated commercial activities. It was the major transportation hub of the region. It was a city of sufficient wealth that it could boast of theaters, opera and concert halls, art galleries, botanical gardens, sports stadiums, and other amenities.
As with any large industrial city, St. Louis had not only elegant mansions and exclusive shopping districts, but tenements and slums also. These lower class districts were often occupied by German and Italian immigrants, and by former slaves, who, in very large numbers, had found the city to be a haven during the Civil War.
One of the subjects of much pride for the people of St. Louis was the very large – it was over 1,300 acres -- Forest Park, which had been the downtown site of the 1904 Louisiana Purchase Exposition. It was in this fine and handsome park that John met Helen on a New Year's Eve toboggan party, a "blind date" event neither John nor Helen had initially wanted to participate in. As Martha recalls, "Neither had ever liked all the whoop-de-doo of New Year's Eve."
In his reminiscences, John told the story of a Sunday picnic with Helen, her cousin Sally, and his good friend, Lyle. John and Lyle picked the girls up at their homes in Lyle's 1928 Model A roadster with a rumble seat. The dell they had been told about was down a steep incline from a country road. "We had a wonderful picnic, sun dappling the green grass, ideal," he wrote. "As the sun dipped west, we packed the car, climbed in, and started up the hill. But the Ford couldn't make it." There were two mules in a nearby field and John obtained the farmer's consent to use one. The farmer carefully described the mule he should take. John confidently hitched up the mule he had taken to the car, and it pulled the car up the steep incline. When he returned the mule, the farmer looked at him, saying "with wonder in his eyes" that he had taken the wrong mule. "This one," he said, "is the killer mule, he's vicious and no one has ever been able to do anything with him." John had found the mule to be gentle as a lamb, and Martha recalls John saying that "the mule seemed to think it was all just dandy." John wrote that he thought the farmer was "overwhelmed with pride in his mule." This story is a favorite with Martha who calls it the "Killer Mule Story."
Helen and John were married in 1930 in St. Louis. It was a second marriage for both, but little is known about Helen's first, except that her husband reportedly had an aversion to work. John's first wife, Dorothy George, had died in accident. (Years later, he told Ann that the horses pulling their carriage had reared up when confronted by an automobile and the carriage had overturned, but he told Martha that he and Dorothy were in automobile, and when he tried to pass a road-grader, he had a head-on collision with an oncoming vehicle.)
By the time their first child, John Crosby (always called "Jack") was born on October 17, 1932, the McEwens had bought a bungalow at 527 Angenette in Kirkwood, a close-in suburb that had been founded about 70 years earlier by a group of businessmen as a home "for families who desired pure air and to rear their families away from contaminating influences of a large city."
On October 20, 1936, Helen gave birth to her first daughter, a daughter they named Ann Cabell (after the Virginia Cabells from whom Helen was descended). She was born at 1:59 a.m. in the Jewish Hospital in St. Louis. For Helen's twelve-day stay in the hospital, the cost was sixty-five dollars, plus a dollar for telephone calls and one instance of room service.
These were the early years of the Great Depression. The stock market had crashed in 1929, there was widespread unemployment, banks were failing, and breadlines were common sights in every major city. The young McEwens, however, were not only spared the consequences of the serious economic distress across the nation, but appear to have been prospering. Their house in Kirkwood was pretty and well maintained. Photographs show the family to be well-dressed and owners of new or recent models of automobiles. And they had – in the language of the time – "a colored" maid, Carolyn, nicknamed "Keeno."
In 1940, the McEwens moved from what appears to have been a comfortable situation and moved to a rural area very near the city of Wichita in Sedgwick County, Kansas, a county adjacent to Cowley County, the county that had been John's home until he went away to college. The reasons for the move are not known. It may have been to be nearer to members of his family, an attractive offer from a new employer, or, given the size and location of the tract they purchased a few miles north of the city, it may have been a decision to shape a rural, more self-sufficient way of life for their family.
The five acres they purchased lay along the Little Arkansas River. The acreage included a fairly large two-story frame farm house, which they immediately remodeled , making for themselves a very comfortable and attractive home at 1524 West 33rd Street. It was on a dirt road and had no close neighbors. They named it "Trail's End."
With a population of about 100,00, Wichita was the second largest city in Kansas and the largest city of the region. It had grown from its cowtown beginnings based on slaughterhouses and grain milling to that of a regional commercial center continuing those activities, but also based on oil production and manufacturing..
John's first employment in Wichita was as a partner in OK Transfer Company, a trucking business founded by his partner, Arch Baum, the husband of his sister, Fern. He subsequently accepted a position in the display advertising department of the Wichita Eagle, the dominant newspaper of the two dailies serving the city. Within a few years he rose to be newspaper's representative to its most important advertisers, including fine clothing and department stores. He was very well regarded by all who knew him, and he was named manager of the department. "He hated it so much," Martha recalls, "that he took back his sales job. He did not like having authority over others and having to answer to a boss as well."
Of evenings and weekends John abandoned his finely tailored suits and ties for the plainer outfit of a farmer, for the McEwen's place was essentially a small farm. They planted and grew corn, potatoes, peas, green beans, tomatoes, lettuce, carrots, turnips, radishes, peanuts, green peppers, okra, sweet potatoes, popcorn, cantaloupe, and watermelons. They raised chickens, geese, ducks, barn cats, and a Guernsey cow. They gathered pears, peaches, and apples from their trees, and grapes from their vines. Some of the produce, eggs, and milk they sold to neighbors, but some tomatoes and vegetables were sold to a downtown restaurant.
Most of the food they raised was for their table. Ann says today that when a vegetable or fruit was in season it was served every day, and remembers with displeasure both cantaloupe and cooked turnips. What is called today "junk food" was never served, she says, and she claims that she didn't taste potato chips until she got her first job and ate lunch downtown!
As an aircraft manufacturing center, Wichita was to become a major producer of airplanes with the military build-up of weapons for the war in Europe and in the Pacific. The largest expansion was at the Boeing Company, first for the manufacture of B-17 bombers, and then for the B-29, the most important bombers employed during the war. Two manufacturers of lighter aircraft used for reconnaissance or light transport, Cessna and Beech, also grew very substantially.
Early in the year that the United States entered the war, Helen gave birth to a second daughter, Martha Bartlow, on April 7, 1941. She was named after Eliza Jane Sellers' mother, Martha Bartlow, John's great-grandmother on his mother's side.
Being almost 40 when the U.S. entered the war, John was not eligible to serve in the armed forces. One member of the family, however, Helen's younger brother, Austin Wheelock Crosby, joined the Navy, and lost his life in the Aleutians. He was only in his early twenties.
When sugar rationing was imposed as a wartime measure, John took up bee keeping for the production of honey, an action that allowed his to receive a larger sugar allotment. Their farm activities grew also with the addition of a Jersey cow (purchased from the famed Hallmark farm in Kansas City) that was raised by Jack as a 4-H project. Both Ann and Martha were also members of 4-H (made up of farm children) learning cooking and sewing and other useful skills. The organization's name was based on "head, heart, health, and hands." Ann remembers 4-H meetings to have been much fun, as was the 4-H fair that was held at the downtown Forum at the end of each summer. And Martha agrees.
The three McEwen children attended Pleasant Valley School, a red brick, two-story building a few miles from their home. The school had multi-graded classrooms through the eighth grade. Ann reports vivid favorable memories of the school. She remembers with particular pleasure the many theatricals performed by virtually the whole student body – "all 30 or 40 of us." On one occasion the pupils were told in the weekly church lesson that their hearts were black until they accepted Jesus. Since John was the president of the rural district's school board (and served in that capacity for twelve years) he was able to promptly "bring that abominable teaching to an end." As president of the board, John led successful campaigns to sell bonds to build new elementary and intermediate schools in the Pleasant Valley district.
An "exciting and important" event in Ann's childhood, she reports, was being taken every two weeks to the downtown library. For play, she especially liked climbing trees in the yard, always with Martha. And she liked singing in the bathtub, always with Martha. Working in the garden, however, was her least pleasurable activity. She did not like it at all.
Neither John nor Helen were regular churchgoers, but they sent their children to the Presbyterian Sunday School, much more of a mainstream denomination (and a church attended by the prosperous and prominent) than that of the earlier McEwens, the Baptist denomination. Helen was a reader of Christian Science materials, and described herself as a member of that church.
Ann attributes her interest in books first to her father, who read and re-read Alice in Wonderland and Winnie the Pooh to Ann when she was small, and whose library of books were available to her once she learned to read.. She also attributes her interest to Jack, especially after he began attending college in 1951, to several of her high school teachers, and to the school's very good library. She was a voracious reader of poetry (especially the French Symbolists), plays (especially Shakespeare and George Bernard Shaw), and philosophy (including Nietzsche). She says today that much of what she read then she didn't fully understand.
By the time Ann was in high school art had become her dominant interest, though she was not only reading much poetry, but writing it as well. She was in her fifth year of piano instruction, but, she says today that her performance skills made plain that she should not plan a musical career. She was generally an excellent student in school and her art teachers, who considered her art to be outstanding, gave her much encouragement. She was awarded a scholarship to attend a summer art camp at Kansas University (where there was a one-of a kind jukebox: it was "all Beethoven, all the time"). When Ann was a senior she got her first job, counting lines in classified advertisements in the Wichita Eagle for purposes of billing.
Meanwhile, Martha had acquired a horse and was becoming an accomplished rider. She rode in local horse shows and was reserve champion of Kansas in 1957. Attendance at rodeos became an occasional pastime for the entire family. During these years John and Helen began raising and selling registered cocker spaniels – the most popular breed at the time -- and gave their enterprise the name, "Trail's End Kennels."
Like other housewives of the time, Helen did not work outside of the home. She was not only raising a family, but also canning and freezing the vegetables and fruits. She was, in Martha's words, " an inspired and accomplished cook and she had an amazing and sophisticated palate." By the time both daughters were in junior or senior high school, however, she had taken a night job at the Wichita Eagle as a copyreader, rising to a position on the city desk.. She loved her work – including writing headlines – and she especially liked responding to the wide array of questions posed by persons who telephoned the newspaper each night. (Martha greatly admired her for beginning a job she didn't like, but staying with it and rising to a good, fun job.) With both parents working at the newspaper, the whole of conversation at mealtimes might be stories deriving from their jobs.
While still in college (which he entered when only 16) Jack married Jan Arensman in 1953. The following year he completed his studies in architecture and was graduated from the University of Illinois. Having been a member of the Reserve Officers Training Corps at the university, he entered the Army as a second lieutenant soon after his graduation and was assigned to a base in Texas. During that period of service, Jack and Jan had their first child, Cameron, a daughter born in 1955. Following Jack's separation from active duty, he accepted employment as an architect in a St. Louis firm. In 1959, their family grew with the birth of John Brock.
Upon her graduation from Wichita High School North in 1954, Ann enrolled at the University of Wichita, planning to major in art. Even in the first year she was taking two or three art courses and working (for $1.50! an hour) as a model in the life drawing course. ("Not nude, for heaven's sake," she explains today). As her freshman year was drawing to a close, she attended the Hippodrome event – a Spring festival of the college -- where she met a young man, Bob Arnold, who was majoring in political science and history, but who was part of a group of would-be poets, folksingers, and artists who met regularly at an off-campus café, Manning's.
Before Martha finished ninth grade (in Pleasant Valley Junior High's first graduating class), John decided to have a large swimming pool added to their very pretty back yard. He swam nearly every warm day in the summers, as did Martha, who became an accomplished swimmer. She even began giving swimming lessons. The pool led to more social activities at the McEwen place than perhaps in all of the preceding years.
Upon her graduation from high school in 1959, Martha enrolled at the University of Kansas at Lawrence, signing up to major in art. There she met (Robert) Alan Kimball, a young man studying political science and Russian area studies. They were married in Wichita on September 10, 1960. Before completing his degree, Alan was honored by being awarded a fellowship by the Woodrow Wilson Foundation, fellowships established to encourage bright and able young scholars to become college teachers. After graduation, Martha and Alan spent some time in Wichita, where on August 24, 1961, Martha gave birth to their first child, Mary Caroline.
The three Kimballs then moved to Seattle, Washington, where Alan enrolled in the graduate school of the University of Washington. On April 15, 1964, their family grew with the birth of William Frederick. Upon completion of his graduate studies. Alan won a fellowship to study in Amsterdam and the family lived there for a year. He then accepted a position teaching World Civilization at Stanford University in Palo Alto, California. In 1966, he finished his dissertation and was awarded his Ph.d in Russian history.
In 1967 Alan accepted a teaching appointment at the University of Oregon, and the following year, the Kimballs bought an imposing 1929 two-story frame house on a large, wooded acreage on a hillside near Hendricks Park on the outskirts of Eugene. On his way to becoming a full professor and after, Alan was awarded fellowships that led to extended residences in Moscow and Sapporo, Japan and at research centers in America. During these years, Martha continued to study and to teach art, and began showing and selling her paintings.
By the late 1960's, Jack was prospering as an architect and winning some public attention, especially for the churches he designed. In 1970, however, Jack was stricken with cancer, which led to his death. He was only 37.
In 1967, having retired from the Wichita Eagle, John sold Trail's End. In 1968, after looking at a number of planned developments in the Ozarks, John and Helen bought a house in the small town of Bentonville, Arkansas. There at 508 E Street SW they established and maintained a good-sized garden.. From time to time they traveled to visit their children and grandchildren. In 1974, Helen died at the age of 67, and her remains were cremated. John took up needlepoint, portraying scenes from memory or photographs, and making gifts of his work to family and friends and selling them to others (including the billionaire, Sam Walton of Wal-Mart) He died in Bentonville in 1990 at the age of 87.
Here in the year 2000 Alan and Martha continue to live in Eugene at 2704 Floral Hill Drive, in the house they purchased 33 years ago. Martha continues to paint and sell her work and to ride one of her two horses. Alan is director of the Russian and East European Studies Center at the University of Oregon.
As for Ann, that's the next story.
Sources

Arnold, Ann Cabell (McEwen), interview and interlineations, 2000

Federal Writers' Project of the Works Projects Administration for the State of Kansas, Kansas, a Guide to the Sunflower State, Viking Press, New York, 1939

Kimball, Martha Bartlow (McEwen), interview and notes, 2000

McEwen, John D. (1902-1990), written reminiscences, 1973

Writers Program of the Works Progress Administration, Missouri: A Guide to the "Show Me" State, Missouri Highway Department, 1941