This project is a joint effort between several adjacent landowners and the McKenzie Watershed council. Trees and shrubs were planted in winter 2006 and will be monitored Spring 2006. Two growing seasons of repeated mowing and weed eating treatments, as well as one small patch of single season solarization. Plus 500 ft. of livestock exclusion fencing was constructed. Project goals were to control invasive weeds and reintroduce site-appropriate native plants to the floodplain of the Mohawk River. The planting of native over-story trees here will work to out-compete the invasive weed vegetation as well as provide a source both for shade and long-term wood recruitment for the lower Mohawk system.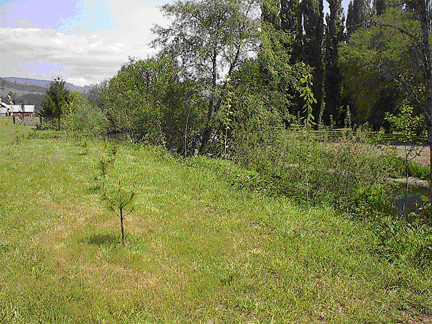 The main channel of the Mohawk river.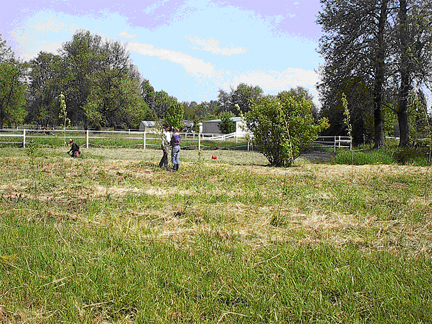 This plot is located near a secondary, McGowen Creek.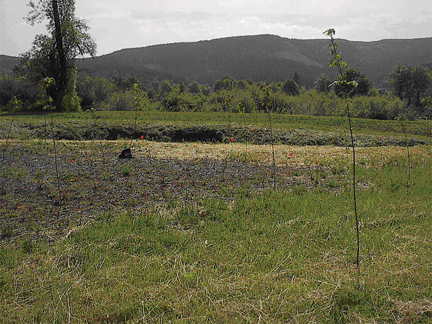 Part of the site was solarized in preparation of planting.
McKenzie Data
Species

2007 Live Plant Total

Percent Survival

Average Height (inches)

Percent Average Height Change

Big Leaf Maple
Acer macrophyllum

19

76%

61.4

0.0%

Red Alder*
Alnus rubra

0

0%

-

-

Incense Cedar
Calocedrus decurrens

5

83.3%

28.0

7.7%

Oregon Ash
Fraxinus latifolia

16

100+%

48.0

8.5%

Ponderosa Pine
Pinus ponderosa

21

95%

32.2

13.5%

Black Cottonwood
Populus balsamifera

5

22.7%

114.0

0.0%

Douglas Fir
Pseudotsuga menziesii

5

100%

40.0

8.7%

Willow
Salix

0

0%

-

-