The planting at South Meadow is divided into three sections: the West Lobe, the Central Lobe and the East Lobe. Plots were placed at locations specified by Buford Park staff. Size and configuration was occasionally altered to avoid large treeless areas (access roads) and to capture an adequate number of plants. Monitoring is designed to complement prior monitoring efforts by park staff. Plantings are similar in all three lobes, with a vast majority of ash and big leaf maple. Smaller numbers of several other tree and shrub species are planted as well. Damage is quite high and common among the lobes, with remnants of serious livestock and present wildlife browse. Stock is for the most part carefully mulched and kept well-cleared of shrubs and grass. Many of the trees have a significantly altered growth form, with several leaders instead of one, which is being addressed by Buford Park staff with careful pruning. Continued and/or increased protection from browse is suggested until plants are well above the heights of browsing animals and free to grow.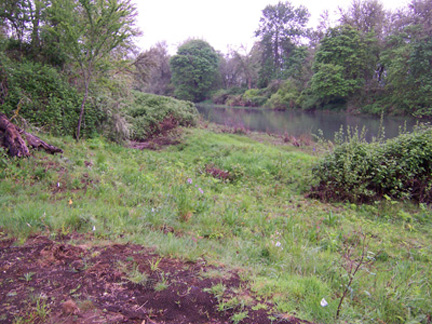 Secondary channel to divert high water.
East Lobe Buford Park.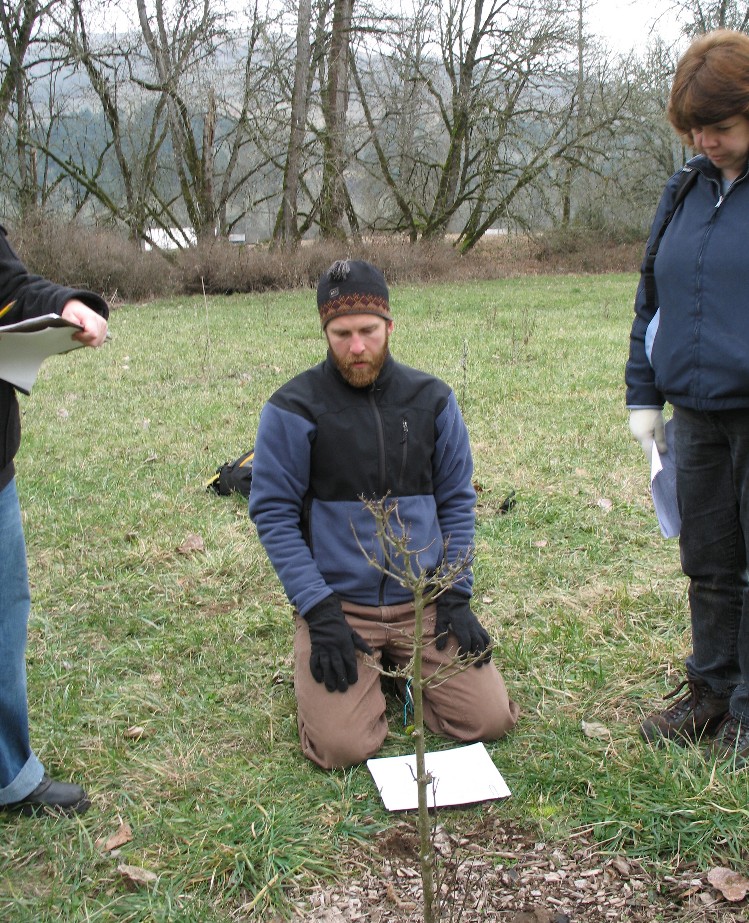 West Lobe-Team Decides Damage Code.
Species

Total Count:

2005

Percent Survival:

2007

Average Height

(in): 2005

Average Height

(in): 2006

Average Height

(in): 2007

Percent Growth:

2005-2007

Bigleaf Maple
Acer macrophyllum

6

67%

29.3

28.8

48.5

66%

Red Alder
Alnus rubra

2

0%

15

24

0

0%

Black Hawthorne
Crataegus douglasii

1

100%

23

23

25

9%

Oregon Ash
Fraxinus latifolia

38

97%

35.4

45.2

52.2

47%

Pacific Crab Apple
Malus fusca

3

100%

56

70

91.7

64%

Ponderosa Pine
Pinus ponderosa

1

100%

28

42

72

157%
Species

Total Count:

2005

Percent Survival:

2007

Average Height

Class: 2005

Average Height

Class: 2006

Average Height

Class: 2007

Percent Growth:

2005-2007

Oregon Grape
Mahonia nervosa

4

100%

1.0

1.8

2.0

100%

Oceanspray
Holodiscus discolor

8

88%

2.3

3.3

3.7

65%

Osoberry
Oemlaria cerasiformis

23

100%

1.4

1.8

1.9

34%

Pacific Ninebark
Physocarpus capitatus

4

100%

1.8

2.8

3.5

100%

Willow
Salix

4

100%

1.8

2.0

4.0

129%

Snowberry
Symphoricarpos albus

15

87%

1.4

1.6

1.6

18%
Species

% Survival
2005-2006

% Survival
2006-2007

% Survival
2005-2007

Common Snowberry
Symphoricarpos albus

62%

94%

59%

Hawthorn
Crateagus douglasii

100%

100%

100%

Nootka Rose
Rosa nutkana

100%

100%

100%

Oregon Grape
Berberis aquifolium

100%

100%

100%

Osoberry
Oemleria cerasiformis

50%

100%

50%

Pacific Ninebark
Physocarpus capitatus

113%

89%

100%

Red-Osier Dogwood
Cornus stolonifera

14%

100%

14%

Spiraea
Spiraea douglasii

100%

100%

100%

Willow
Salix species

100%

50%

50%