Site Description
The Bristow site is planted on three acres in Elijah Bristow State Park. Plots are circular and located on the high terrace next to the Middle Fork of the Willamette River. Species that are planted at this site include Big leaf maple, Red alder, Incense cedar, Oregon ash, and Black cottonwood. Some issues threatening these species include disease, particularly the cottonwood, and browsing and rubbing by deer. Both solid and vexar tubing is utilized to protect the young plants from deer predation and damage. For control against vegetative competition three methods are used. Mowing is used between rows to keep blackberry bushes down. Some grubbing, or removal of the entire plant by pulling it out, is also used. In addition, the management sometimes uses herbicide treatment to control the most stubborn competitors.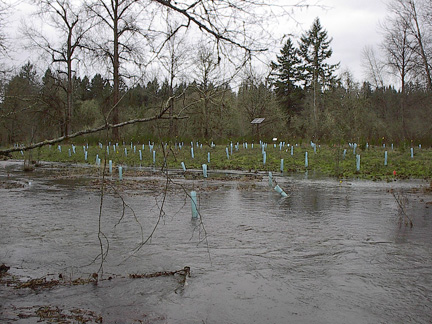 High water in 2006 came up into a secondary channel where some plants were planted.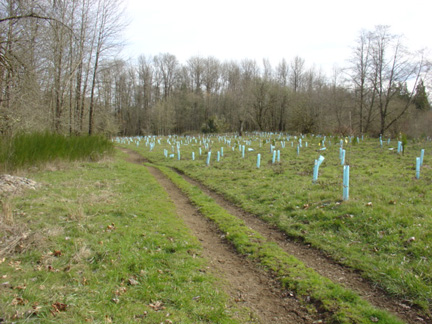 Overview of part of the Bristow site.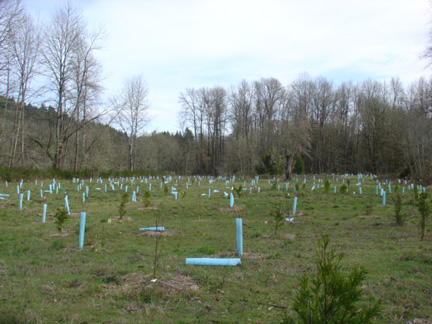 Plot A-2. One of six plots.
Bristow Data
Species

2005 Live Tree Count

2006 Live Tree Count

2007 Live Tree Count

% Survival 2005-2006

% Survival 2006- 2007

% Survival 2005-2007

Big Leaf Maple

Acer macrophyllum

30

28

23

93.3%

82.1%

76.6%

Red Alder

Alnus rubra

3

3

2

100.0%

66.6%

66.6%

California Incense Cedar

Calocedrus decurrens

27

25

22

92.5%

88.0%

81.4%

Oregon Ash

Fraxinus latifolia

4

3

3

75.0%

100.0%

75.0%

Black Cottonwood

Populus basimifera

102

93

92

91.1%

98.9%

90.2%
Species

Change in Growth (inches)
2005-2006

Change in Growth (inches)
2006-2007

Change in Growth (inches)
2005-2007

% Change in Growth 06-07

% Change in Growth 05-06

% Change in Growth 05-07

Big Leaf Maple

Acer macrophyllum

6.8

2.8

9.6

7.5%

22.3%

31.4%

Red Alder

Alnus rubra

31.7

34.0

65.7

47.2%

78.6%

163.0%

California Incense Cedar

Calocedrus decurrens

6.1

5.2

11.3

15.9%

22.9%

42.4%

Oregon Ash

Fraxinus latifolia

18.8

12.6

31.4

31.0%

85.8%

143.3%

Black Cottonwood

Populus basimifera

5.7

5.6

11.3

9.3%

10.5%

20.8%