This project contains plantings of various ages, ranging back nearly 15 years. We are monitoring only the most recent plantings, some installed winter of 2005, and others winter of 2006. Dave Bontrager has been doing riparian restoration on his property since he purchased the land 14 years ago. This current planting is only one stage of all of the work he has been doing. The estuary that runs through his property runs into Lost Creek, which is part of the Watershed of the Middle Fork of the Willamette River. Dave Bontrager's primary goal is to increase the species diversity, particularly of birds, on his property.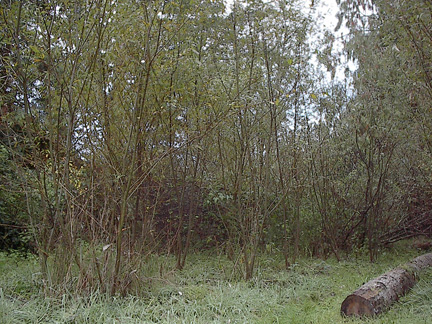 Mature planting of willows.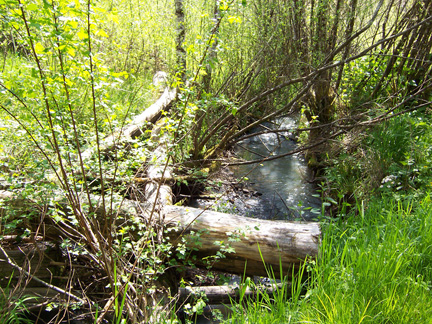 Logs placed in the stream to divert high water and disperse energy.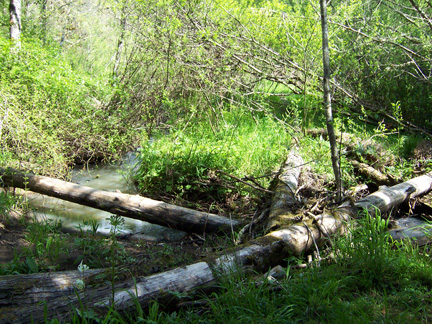 A similar log jam placed to slow down fast water.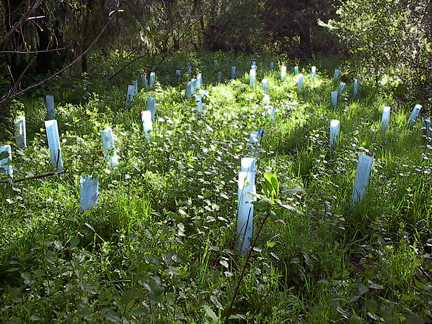 One of the plots at Bontrager's.
Bontrager Data
Species

2005 Average

Height Class

2006 Average

Height Class

2007 Average

Height Class

% Change

05-06

% Change

06-07

% Change

05-07

Osoberry
Oemleria cerasiformis

0.5

1.6

1.8

220.0%

12.5%

260.0%

Pacific Ninebark
Physocarpus capitatus

2.0

1.2

1.5

-40.0%

25.0%

-25.0%

Wild Rose
Rosa nutkana

1.3

1.9

1.8

46.2%

-5.3%

38.5%

Willow
Salix lasiandra

1.8

1.8

2.0

0.0%

11.1%

11.1%

Spirea
Spirea douglasii

0.7

2.1

1.5

200.0%

-28.6%

114.3%

Snowberry
Symphoricarpos albus

2.1

2.2

1.9

4.8%

-13.6%

-9.5%
Species

2006 Live Plant Count

2007 Live Plant Count

% Survival 06-07

Red Alder
Alnus rubra

1

1

100.0%

Osoberry
Oemleria cerasiformis

5

5

100.0%

Pacific Ninebark
Physocarpus capitatus

11

11

100.0%

Wild Rose
Rosa nutkana

8

7

87.5%

Willow
Salix

4

1

25.0%

Spirea
Spirea douglasii

28

28

100.0%

Snowberry
Symphoricarpos albus

12

12

100.0%